Here is a full breakdown from the Olympia 2021 Bikini prejudging.
The Olympia 2021 Bikini prejudging is now complete. This is a large division made up of 35 competitors looking for the title. This year, it is up for grabs and that makes it even more exciting.
The 2020 Olympia Bikini champion Janet Layug did not compete this weekend, which means there will be a new champion crowned. Jennifer Dorie entered the weekend coming off a victory in the Arnold Classic. While she might be a slight favorite based on momentum, this year is wide open.
Former Olympia Bikini champion Ashley Kaltwasser and Lauralie Chapados joined Dorie in the final callout and made up what is to be assumed as the top three. Elisa Pecini is another dark-horse competitor with a chance to finish near the top.
The Bikini finals will take place on Saturday night. It is shaping up to be quite the finish and a must-watch event. The prejudging portion of the Bikini event is now complete. Below, you can find a full breakdown of the event.
Callout Report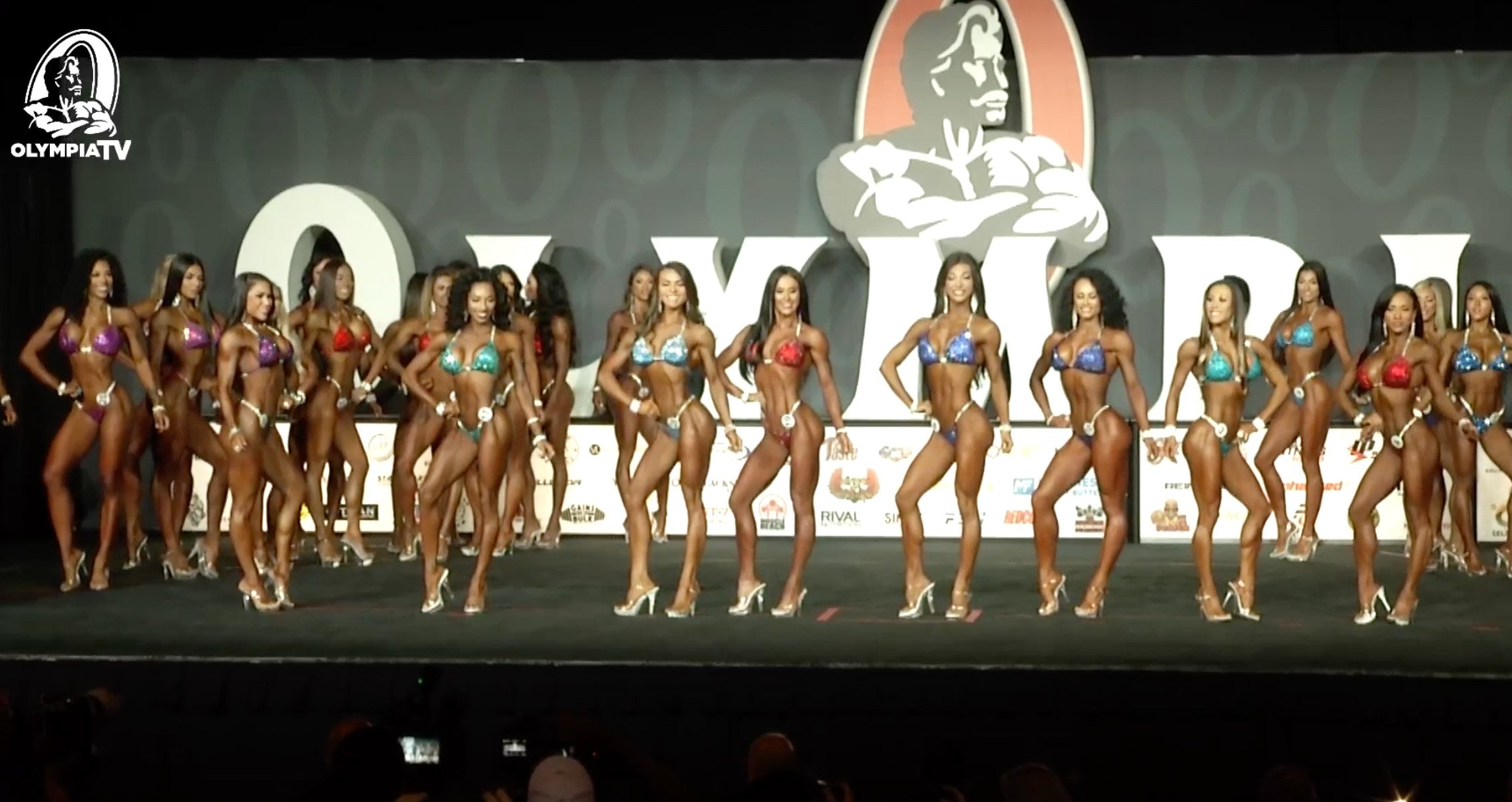 First Callout
Romina Basualdo
Maureen Blanquisco
Lauralie Chapados
Jennifer Dorie
Daraja Hill
Ashley Kaltwasser
Elisa Pecini
Jennifer Ronzitti

Second Callout
Lauren Dannenmiller
Jourdanne Lee
Allison Testu
Jessica Wilson
Lucia Malavaze
Alessia Facchin

Third Callout
Francesca Stoico
Erin Stern
Jimi Marley
Chen Qi Liu
Ashlyn Little
Vania Auguste
Ariel Barley

Fourth Callout
Jasmine Gonzalez
Ivanna Escandar Fernandez
Sierra Swann
Gabrielle Messias

Fifth Callout
Emily Plajer
Ji Bin Park
Adrianna Kaczmarek
Reijuana Harley
Maria Julia Lemos
Kristina Brunauer
Carolina Collazos

Sixth Callout
Romina Basualdo
Lauren Dannenmiller
Lucia Malavaze

Seventh Callout
Maureen Blanquisco
Elisa Pecini
Ashlyn Little

Eighth Callout (Top 3)
Jennifer Dorie
Lauralie Chapados
Ashley Kaltwasser
Previous Olympia Bikini Winners
2020: Janet Layug
2019: Elisa Pecini
2018: Angelica Teixeira
2017: Angelica Teixeira
2016: Courtney King
2015: Ashley Kaltwasser
2014: Ashley Kaltwasser
2013: Ashley Kaltwasser
Saturday Prejudging Recap:
2021 Mr. Olympia Results So Far
More 2021 Mr. Olympia Coverage:
Stick around the Generation Iron Fitness Network for continued updates and coverage of the Olympia 2021 weekend!