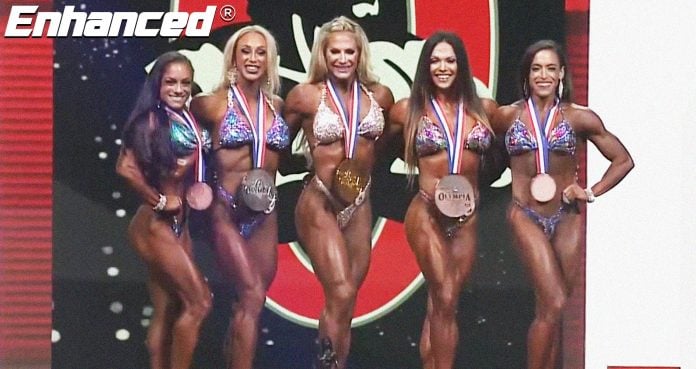 Whitney Jones wins the Fitness division at the Olympia 2021.
There was a clear top level of competitors in the Fitness division coming into the weekend. This was an anticipated showing and it did not disappoint during the finals on Friday night from Orlando. The 2021 Olympia Fitness results have been announced.
Missy Truscott has turned into the competitor to beat in Fitness. She dethroned Whitney Jones, who won back-to-back Olympias in 2018 and 2019, during last year's show. Truscott won the Arnold Classic in Columbus this year and was looking to continue dominance. There were some big-time names vying for the title against Truscott this year.
Jones, who finished third last year, was back on stage along with Oksana Grishina. This is the top-tier of competition in Fitness. Grishina won four-straight Olympia titles from 2014-2017 and finished second to Truscott in 2020. She also finished second at the Arnold Classic two weeks back. Ariel Khadr is another athlete to watch. She is an up-and-coming star in Fitness and is putting up the performances to back it up. Khadr was a fourth-place finisher at the Olympia last season and third at the Arnold Classic.
Over the last year, Fitness has built some elite competitors. They have separate themselves in the division and it will be interesting to see how that continues over time. Jaclyn Baker and Aurika Tyrgale entered as dark-horse contenders at the Olympia this weekend.
The first night of results from Orlando is beginning to be announced. The Fitness division is part of this first set of results. Below, you can find the full results from Fitness, along with previous winners and a score card from the event.

Olympia 2021 Fitness Results
First Place – Whitney Jones
Second Place – Missy Truscott
Third Place – Oksana Grishina
Fourth Place – Ariel Khadr
Fifth Place – Jaclyn Baker
Sixth Place — Tamara Vahn
Seventh Place — Sara Kovach
Eighth Place — Darrian Borello
Ninth Place — Minna Pajulahti
Tenth Place — Aurika Tyrgale
Pictures & Highlights
View this post on Instagram
View this post on Instagram
View this post on Instagram
View this post on Instagram
Official Olympia 2021 Fitness Scorecard

Previous Fitness Olympia Winners
2020: Missy Truscott
2019: Whitney Jones
2018: Whitney Jones
2017: Oksana Grishina
2016: Oksana Grishina
2015: Oksana Grishina
2014: Oksana Grishina
2021 Mr. Olympia Results So Far
More 2021 Mr. Olympia Coverage:
Generation Iron will continue to provide full coverage of the 2021 Olympia. For more news and updates, follow Generation Iron on Facebook, Twitter, and Instagram.