Natural Olympia Bikini Angels reigning champ Arely Ayala shares the breakfast prepping her to defend her title at 2022 Natural Olympia. 
You may have heard the adage "breakfast is the most important meal of the day." Doctors have been touting this for decades and for a good reason. A proper breakfast can fuel your body with the nutrition it needs to build the physique of a world-class bodybuilding champion. So what does a natural bodybuilding champion eat for breakfast? Professional Natural Bodybuilding Association (PNBA) athlete Arely Ayala gave insight into her 2022 natural bodybuilding "breakfast of champions." 
Arely Ayala is the reigning Natural Olympia Bikini Angels champion, and she aspires to defend her title and win the Bikini Divas (runner-up last year) at 2022 Natural Olympia. Ayala has had a fantastic run this year thus far: 
Arely Ayala's Current 2022 Titles
Arely Ayala's First Meal of the Day  
Arely Ayala says her protein-centric breakfast has significantly impacted her success this year. Ayala said:
"Within bodybuilding, nutrition

plays a fundamental role in achieving the objectives and many people

today may have a lot of discipline and do not miss their workouts, but

they fail to eat and eat a proper diet. So I want to share with you

some of my favorite foods that I use for breakfast, as a pre-workout

that is sweet and very satiating, without sugar, with or without

carbohydrates, depending on my needs at the time. Every day I have the

same breakfast in preparation for international competition: Waffles

and Pancakes Fitness. The star ingredients are egg whites and protein

powder. Other ingredients that I add as required are: oatmeal, rice

flour, cinnamon, splendao stevia, fruit, zero sugar honey, zero

nutella, peanut butter, Greek yogurt, spincah, chia, and so on.

Remember, in order to stick to your diet, you have to enjoy your food."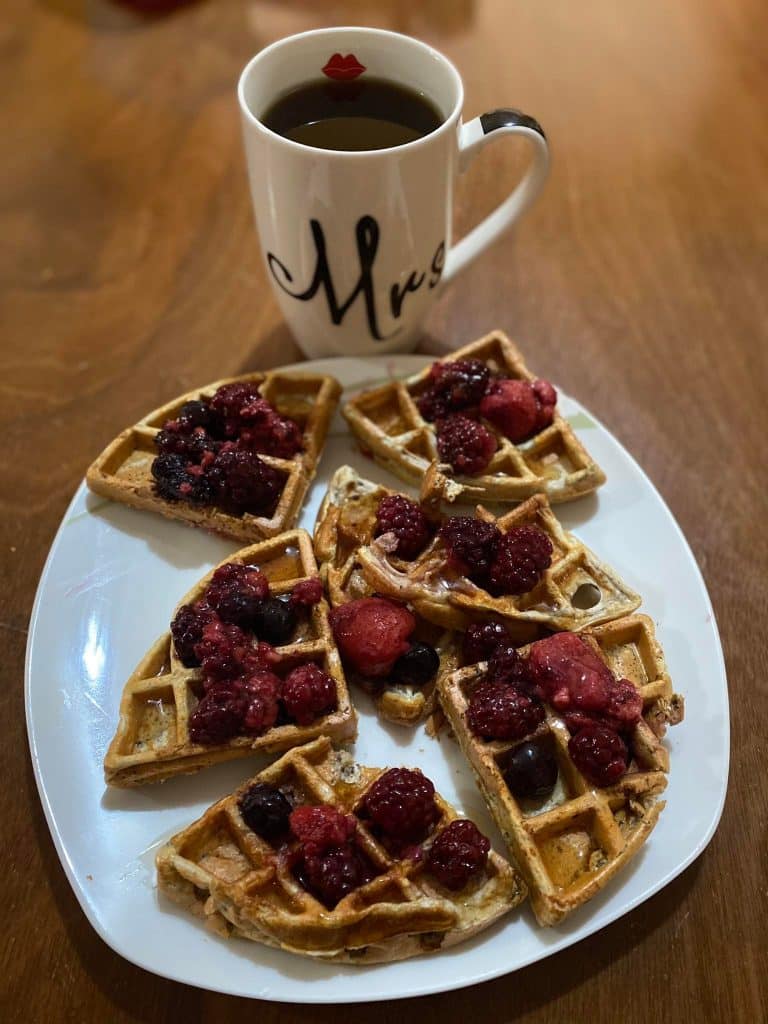 Arely Ayala's Breakfast Overview
Arely Ayala is proof that you can eat delicious food and build the physique of a natural bodybuilding champion. Of course, eating healthy foods is vital for your body to function optimally, build muscle, and burn the most fat possible. But the nutrition targets you hit play a much more significant role in the physique you build than the foods you eat. 
For example, Arely Ayala's breakfast is packed with protein, including egg whites, protein powder, peanut butter, Greek yogurt, chia, and Splenda Stevia. And protein is vital for building muscle and feeling satiated. 
Ayala's breakfast also contains the complex carbs of oatmeal and rice flour, which help fuel her workouts. Carbohydrates are essential for energy and muscle glycogen (fuel for your muscles). 
Ayala also believes you must enjoy what you eat to stick to your diet. This is why Ayala's meal includes honey and cinnamon to add flavor to her already tasty pancakes. 
Overall, Arely Ayala's breakfast is packed with everything you need to start your day on the right foot to build an elite physique and crush an intense workout. It's protein-packed to build muscle, has carbs to fuel your workouts, and contains other healthy ingredients to support optimal health. Plus, it's mouthwatering!
Follow us on Instagram, Facebook, and Twitter for more insight on natural bodybuilding champs' nutrition!