Optimizing female vitality is vital for women's health and fitness.
Female vitality is critical for women who want to optimize their health and fitness. It's responsible for helping you feel strong and capable and gives you the motivation and energy you need to hit your fitness goals. Female vitality is also crucial for women's libido and physical performance. When your vitality is low, you'll feel sluggish, unmotivated, and even depressed. Fortunately, lifestyle changes, nutrition, and exercise can maximize your vitality. 
Benefits of Boosting Female Vitality 
Of course, you'll feel amazing once you optimize your vitality. You'll feel energized and full of passion and drive. As a result, you'll have a much easier time crushing your goals in the gym and life. In addition, losing body fat and toning your body becomes a breeze. 
That's because when you improve your vitality, you'll have more energy, and your hormones will be balanced. So not only will you have the energy you need to make progress on your workouts, but your body will have a much easier time burning body fat. 
In addition to feeling refreshed and motivated, female vitality is essential for women's sexual health. Strong vitality means a strong sex drive and increased arousal and satisfaction. So if you improve your female vitality, you'll experience enhanced drive and performance in and out of the gym. 
How Do You Boost Female Vitality? 
Thankfully, many things in your control naturally boost female vitality. For starters, you'll want to exercise regularly. Exercising is beneficial for increasing energy levels and your hormones. Specifically, strength training is the physical activity to focus on since it improves hormones that help with vitality. So try to get to the gym 3-4 times a week for 30 minutes to 1 hour. 
And you must get enough rest outside of the gym. Although exercise and strength training is beneficial, your vitality will suffer if you overtrain and don't allow enough time for recovery. So always take a couple of days off from the gym and at least one full rest day from physical activity in general. 
Furthermore, you'll want to optimize your sleep. Getting enough shut-eye is imperative for numerous health reasons, including cognitive functioning and reducing stress levels. And it's crucial to maximize your energy and balance your hormones — both essential for vitality. So aim for at least 6-8 hours of sleep per night. 
In addition, to optimize your sleep and workout regimen, you'll want to look at what you're putting into your body. Eating certain foods significantly impacts your drive, physical performance, and mood. Eat healthy whole foods rich in nutrients, such as fruits, vegetables, and whole grains. And make sure you're eating enough protein, complex carbohydrates, and healthy fats. Limit sugary and processed foods — they damper your drive and energy levels. 
Although changing your lifestyle, diet, and exercise routines is critical for optimal female vitality, taking a premium supplement with scientifically proven ingredients is the key to catapulting female vitality. 
Ingredients to Skyrocket Female Vitality 
You'll want to take many ingredients to enhance your female vitality truly. That's because female vitality is multifaceted. It depends on numerous factors, including hormones, sleep, and body composition. In addition, for women to feel truly confident in their skin, they'll want their hair, skin, and nail hair to thrive. 
The ingredients you'll want to look out for balance your hormones, improve your sleep, help you shed body fat, and improve your hair, skin, and nail health simultaneously. One supplement stack that comes to mind is Inno Supps Female Vitality Stack. 
Inno Supps Female Vitatlity Stack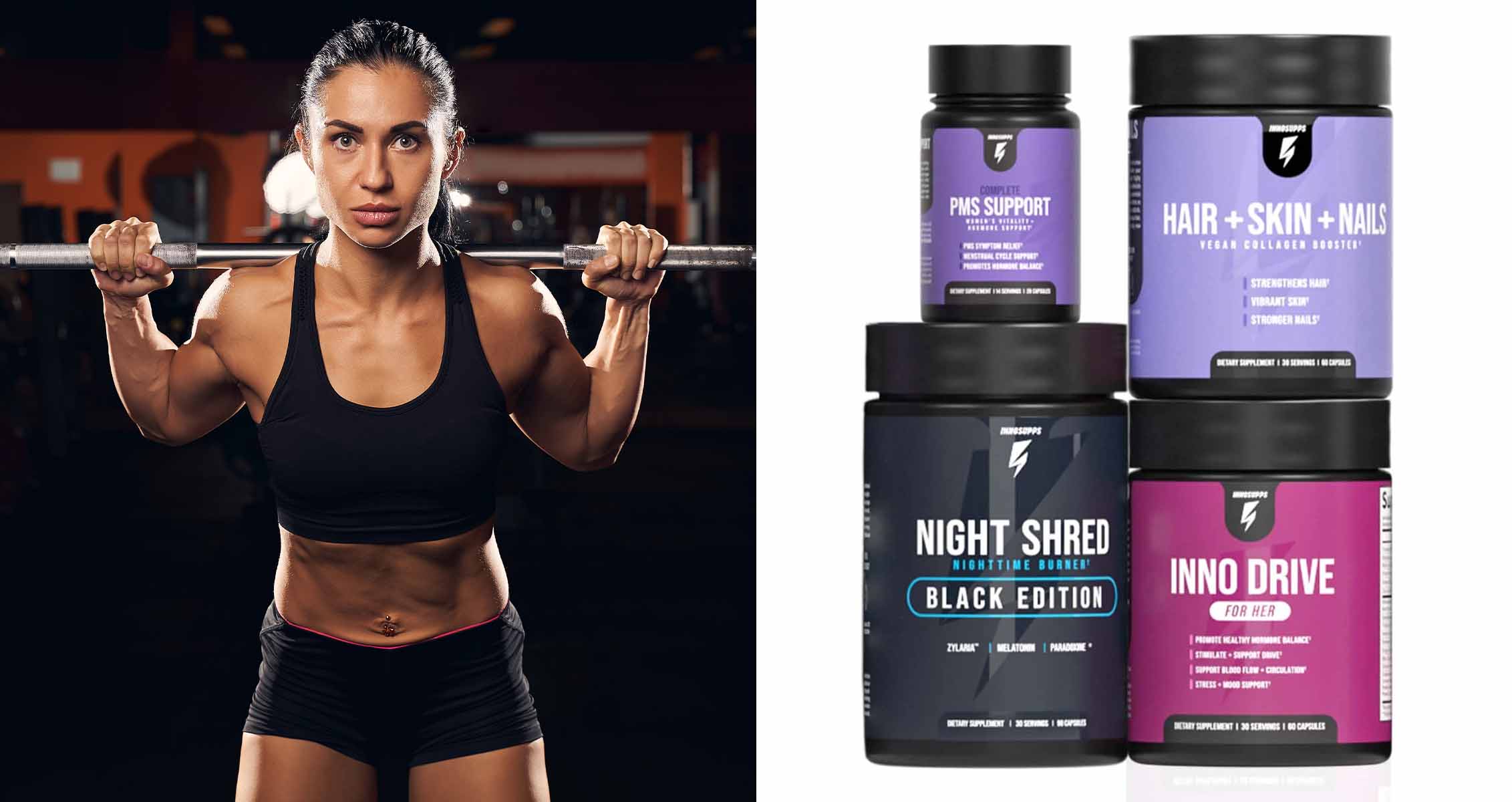 This stack contains multiple quality supplements that hit female vitality from every corner, ensuring you get the best sleep, keep your hormones in check, and optimize your hair, skin, and nails. Inno Supps is one of the market's most trusted and sought-after supplement brands. The company only uses natural, high-quality ingredients — no artificial ingredients — that are doctor-approved and backed by research. The ingredients in the four powerful supplements that come in this stack are designed to:
Support hormone balance

Improve libido and sexual function

Relieve PMS symptoms

Maximize sleep and

recovery

 
Enhance female vitality and performance in the gym, bedroom, and beyond!
The supplements responsible for these benefits are: 
Final Word
Female vitality is responsible for how women feel physically, emotionally, and mentally. You feel incredible, energized, and motivated when you optimize this. When your vitality is low, you'll feel exhausted and uninspired. On the other hand, when it's high, you'll experience life through a different lens. 
Having the energy to go to the gym and have more fun with your partner becomes much more satisfying and enjoyable. You'll experience increased workout performance and toning your body and losing weight becomes a breeze. And your satisfaction in the bedroom is enhanced. 
There are many things you can do to improve your vitality. You should weight train a few times a week, eat healthy whole foods, and take the proper ingredients proven to skyrocket vitality! 
Follow us on Instagram, Facebook, and Twitter for more training and nutrition tips! 
References
Chauhan, S., Srivastava, M. K., & Pathak, A. K. (2022). Effect of standardized root extract of ashwagandha (

Withania somnifera

) on well-being and sexual performance in adult males: A randomized controlled trial.

Health science reports

,

5

(4), e741.

https://doi.org/10.1002/hsr2.741

Arab, A., Rafie, N., Askari, G., & Taghiabadi, M. (2020). Beneficial Role of Calcium in Premenstrual Syndrome: A Systematic Review of Current Literature.

International journal of preventive medicine

,

11

, 156.

https://doi.org/10.4103/ijpvm.IJPVM_243_19

Bolke, L., Schlippe, G., Gerß, J., & Voss, W. (2019). A Collagen Supplement Improves Skin Hydration, Elasticity, Roughness, and Density: Results of a Randomized, Placebo-Controlled, Blind Study.

Nutrients

,

11

(10), 2494.

https://doi.org/10.3390/nu11102494

Sugita, J., Yoneshiro, T., Sugishima, Y., Ikemoto, T., Uchiwa, H., Suzuki, I., & Saito, M. (2014). Daily ingestion of grains of paradise (Aframomum melegueta) extract increases whole-body energy expenditure and decreases visceral fat in humans.

Journal of nutritional science and vitaminology

,

60

(1), 22–27. https://doi.org/10.3177/jnsv.60.22