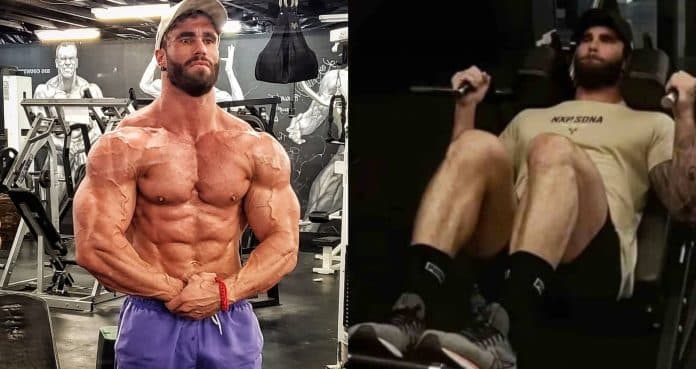 Despite some legal battles, Calum Von Moger is motivated to train and improve his physique. 
Calum Von Moger, the 32-year-old bodybuilding star best known for portraying a young Arnold Schwarzenegger in Bigger and his life story biography documentary Calum von Moger Unbroken. Despite recent legal issues, Calum Von Moger appears determined to turn things around and shared an intense leg day workout on YouTube with fans—setting goals to shrink down over the next few months. 
With excellent training knowledge and shredded muscle mass preceding him, many were initially excited about what was yet to come from Von Moger—but only time will tell how far this Mr. Universe champion can go!
Calum Von Moger had to take on a challenging custody battle, but he wasn't done with legal drama. A road rage incident resulted in him being accused of slashing an individual's tires—and when police investigated the situation, they found quite an arsenal inside his vehicle: brass knuckles for added punch power, a tomahawk for close-quarters combat situations, and even a hunting knife!
Moreover, in May last year, Australian bodybuilder Calum Von Moger took an unexpected and unfortunate dive out a two-story window. After being hospitalized for several days in a coma, much to the medical staff's surprise, he made a full recovery despite initial predictions. 
Although his situation was far from ideal, as authorities were waiting on him at court due to past events, Von Moger bravely pulled through! While still en route down the path of healing and rehabilitation earlier this week, he returned to his YouTube channel determined more than ever with plans set on slimming down for upcoming competitions coming soon!
Full Name: Calum Von Moger
Weight
Height
Date Of Birth
245-255 lbs.
6'2''
06/09/1990
Profession
Era
Nationality
Bodybuilder, Actor
2010
Australian
Calum Von Moger Leg Workout
View this post on Instagram
Below, we'll overview the exercises Calum Von Moger included in his leg workout. 
Smith Machine Squats 
Performing smith machine squats is an excellent way to add strength and tone to your lower body. This exercise is great for those new to the gym, as it provides more stability than a traditional free weight squat. With this type of squat, the vertical path of the barbell is constrained by the smith machine, which eliminates many variables associated with traditional squats like balance, coordination, and stabilization. 
Additionally, smith machine squats help target different areas of the body, such as the glutes, quads, and hamstrings, while allowing you to lift heavier weights with greater ease than other squats. 
Leg Press 
The leg press machine is instrumental in building leg strength. It's a safe and effective way to strengthen leg muscles, especially those that make up the quadriceps, hamstrings, calves, and glutes. 
Using leg presses correctly with proper form can safely increase your leg strength without the risk of injuring yourself. It also allows you to work on different muscles within your legs while decreasing the strain on other parts of your body since leg presses can be done in a seated position. 
Barbell Hack Squats 
Barbell hack squats are an effective exercise for building strength and muscle. This exercise is excellent for sculpting your quads. Barbell hack squats put less stress on the back than standard barbell squats, allowing you to target specific muscle groups more intensely. 
Stiff Leg Deadlifts 
The stiff leg deadlift is incredibly beneficial for anyone looking to increase their muscular strength and stability. This multi-joint, compound movement targets the major muscles of the lower body, including your glutes, hamstrings, adductors, and calves. Stiff leg deadlifts are also a great way to strengthen your lower back and strengthen the stabilizing muscles of your spine. 
Furthermore, stiff leg deadlifts will give you better overall balance and coordination since they involve simultaneously working both sides of your body. 
Leg Curls 
Leg curls are a great way to isolate the leg muscles, particularly the hamstrings, and strengthen them. Doing leg curls regularly can provide many benefits that other leg exercises don't offer. Not only are leg curls effective in building muscle while increasing strength, but they also help prevent lower body injury and improve athletic performance. 
Leg Extensions 
Leg extensions are a great way to strengthen the quadriceps and build muscle in the legs. Not only that, leg extensions improve your overall knee stability by strengthening leg muscles, ligaments, and joints.
Leg Exercises
View this post on Instagram
Exercises 
Smith Machine Squats
Leg Press 
Barbell Hack Squats 
Stiff Leg Deadlifts 
Leg Curls
Leg Extensions 
Calum Von Moger said that the workout focused on higher reps, fewer sets, and more exercises. Moger stated:
"Leg day — just training quads, hamstrings, calves. It's day two of this split I'm doing. So, and it's like a high-intensity workout, so not a lot of volume but high reps, fewer sets, more exercises. Starting on the Smith Machine squats, I'm out of breath. Then, we're going to do leg press for three sets. Then, I'm thinking of doing these barbell hack squats and then, maybe some stiff leg deadlifts, a leg curl… and see how much gas we have left in the tank after that. 

Maybe some calves and leg extensions after. I want to keep it under an hour. If there's some room for some calf stretching at the end, then we'll get that in too. It's a good one. It's a nice solid leg workout. Leg press now, let's stretch it a little bit; we'll do this one now, the barbell hack squat." 
He said he's cutting his volume down because he doesn't want to get too big. Moger expressed:
"I heard that if you do too many reps, you won't get as big, and I don't want to get as big. I'm actually trying to downsize," says Von Moger. "The hour of power is finished. We just finished a good, little juicy leg workout. It's been a while since I did a shitty vlog. We got a little pump on." 
After an apology to make amends for his actions last year, Calum Von Moger is determined to stay healthy and active and encourage anyone struggling with drug or alcohol problems. Although it's still unclear if we'll see him step on stage again as a professional bodybuilder, the future certainly looks brighter!
You can watch Calum Von Moger's leg day training video below:
Follow us on Instagram, Facebook, and Twitter for the latest news on bodybuilders and strength sports athletes!