A Highly Potent Men's Vitality Supplement
It's no secret that men's testosterone levels drop with time, and there are plenty of testosterone boosters on the market to try to counter it. Today we are looking at T-Drive, by InnoSupps. A product to not only boost testosterone, but also improve male vitality. With an impressive blend of ingredients, it is almost certain you will be feeling like a new man with T-Drive.
What is Testosterone?
To begin, we should probably cover exactly what testosterone is before we go over why T-Drive is a viable option for helping it. 
Testosterone is a hormone found in humans, as well as in other animals. In men, the testicles primarily make testosterone. Testosterone is most often associated with sex drive and plays a vital role in sperm production. It also affects bone and muscle mass, the way men store fat in the body, and even red blood cell production. A man's testosterone levels can also affect his mood. The production of testosterone starts to increase significantly during puberty and begins to dip after age 30 typically.
So, as your test levels drop, you begin to experience things like fatigue, decreased libido, muscle loss or inability to gain new muscle, and so on. You don't even have to be in your 30s to experience this. Your diet as well as workout regimen, and other existential factors can also have an affect on test production. That is where things like testosterone boosters come into play, and one of our top picks is InnoSupps T-Drive.
Inno Supps T-Drive is a great testosterone booster to increase muscle growth, supercharge hormone levels, and enhance performance.
T-Drive Overview
What exactly is T-Drive besides a test booster? There are plenty of test boosters on the market, so what makes this one any different? Well, InnoSupps has made sure that this product is doctor-backed. Cedars Sinai Cardiologist, Dr. David Filsoof, stated that "T-Drive contains several ingredients clinically known to healthy T levels and overall vitality".
InnoSupps states that T-Drive will provide energy and balanced t-levels throughout the day, not only in the gym. Let's take a deeper look at the ingredients in T-Drive.
Ingredients of T-Drive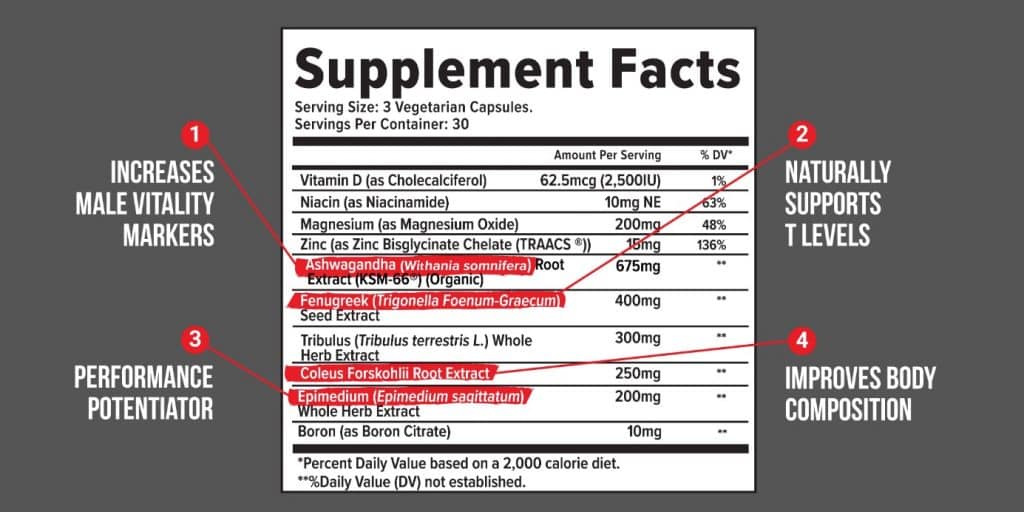 Moving on to what exactly is in the supplement, there are a couple ingredients clinically proven to boost test and some other proven to boost vitality, and InnoSupps explains each one. So we will too.
Ashwagandha: Added to increase testosterone and male vitality markers
Fenugreek: Added in to naturally support testosterone production
Epimedium: For desire and used as a performance potentiator 
Coleus: Stimulates testosterone levels and improves body composition
Magnesium: Supports cardiovascular health and promotes natural T production
Zinc: Increases levels of free testosterone in the body, may help support immune function and can support a healthy inflammatory response.
The ingredients overall are combined to create a potent supplement that truly optimizes your hormone levels. This in turn creates better health and gives better drive, whether it is in the gym or out of it, who wouldn't want that?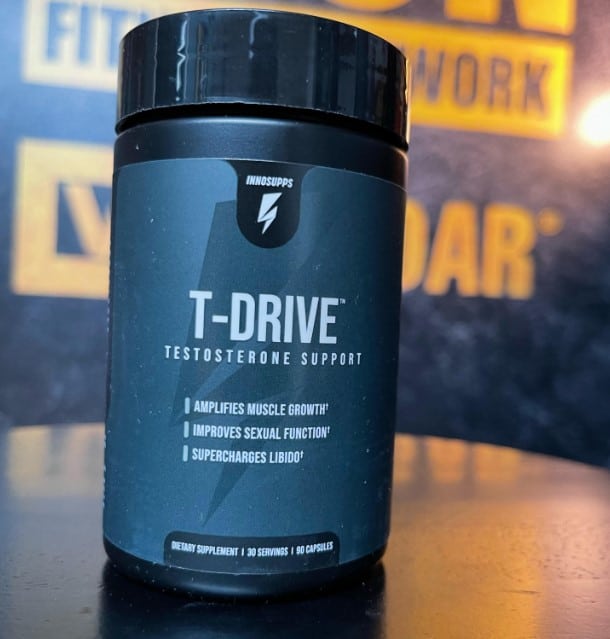 Proof?
You may be asking, what makes T-Drive reliable? There are many junk products in the supplement world, but InnoSupps T-Drive is not one of them. Their reviews on the site are immaculate. They have 2,752 reviews total. Out of that total number 2,358 of them are five stars. 
Some of the reviews have reported more energy, better lifts, and increased mood. You can go to the product and under "Reviews", filter them by what you want to focus on; libido, energy, T-Drive, etc.
Price
Now, maybe you are interested in trying out T-Drive. What are you going to pay for this product? Let's take a look at the options for pricing.
1 Bottle: $79.99 total
3 Bottles: $239.97 total
6 Bottles: $479.94 total
This is a bit pricey, but it is a quality product. They also offer a subscribe and save deal, where you can subscribe to receiving these products every 30, 90, or 180 days. This takes off 25% of the total price! So it would look something like this:
1 Bottle: $52.49/bottle ($52.49 total)
3 Bottles: $44.25/bottle ($132.75 total)
6 Bottles: $36.75/bottle ($220.50 total)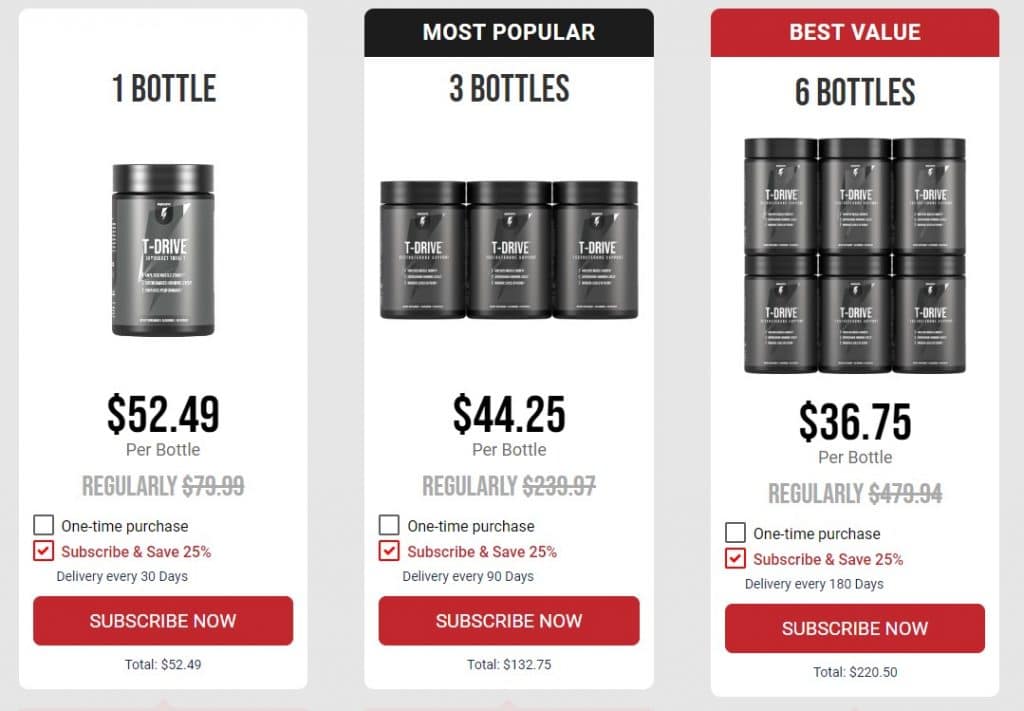 Frequently Asked Questions (FAQs)
Now that we have gone over everything involving T-Drive, you may have a few questions. Let's take a look at some questions you may have, and answer them to the best of our abilities.
Can Women Take T-Drive?
T-Drive is catered to the demographic of men. It is a very potent testosterone booster and advertised at improving men's vitality. In reality, there is nothing stopping a woman from taking it. But, it is a supplement designed for men, and is recommended to only be taken by men. 
Is T-Drive Safe to Take?
T-Drive is a natural supplement that helps stimulate testosterone and vital hormones from within. InnoSupps believes that the body is a miraculous organism and when provided with the correct stimulus and building blocks of herbs, vitamins and minerals, men will see amazing results.
Do I Need to Cycle Off of T-Drive?
With things like anabolic steroids, you need to "cycle" to let your body reset and recover. InnoSupps recommends a similar idea with T-Drive. 
"We always feel that giving the body a break for 30 days in between 3-6 month cycles helps you regain a sensitivity to all of the ingredients to see maximum results." 
How Long Till I See Results?
Everyone wants a supplement that works overnight. Wouldn't it be great to wake up one day absolutely massive and shredded? Unfortunately, in the wise words of Arnold Schwarzenegger, there is no magic pill. So, how long will it take for T-Drive to bolster results? InnoSupps answers this way:
"This is a tricky question because everyone is different. Some men felt a difference in as few as 2 days and it took some 1 month to feel a difference. Something that we do know is that results tend to improve dramatically between months 2-3".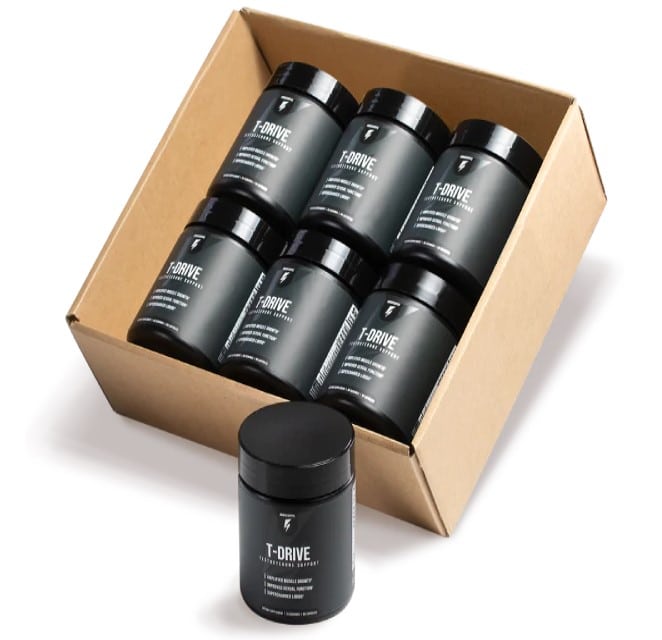 Wrap-Up
When it comes to testosterone, it is not something you want to have too little of. Low testosterone can cause a multitude of unwanted side effects like low libido, mood swings, muscle loss, and so on. But, with a saturated market of testosterone boosting products, it can be hard to choose what to do. 
However, T-Drive stands out with its potent ingredients that are proven to boost testosterone levels and overall vitality in men. InnoSupps has their product clinically backed, how can you beat that? While it is not the cheapest supplement on the market, you are certainly getting a quality one with T-Drive, and with over 2,000 customers that were happy enough to leave a good review, there are some pretty good odds that you'll like it.
So, will you be giving T-Drive a try?