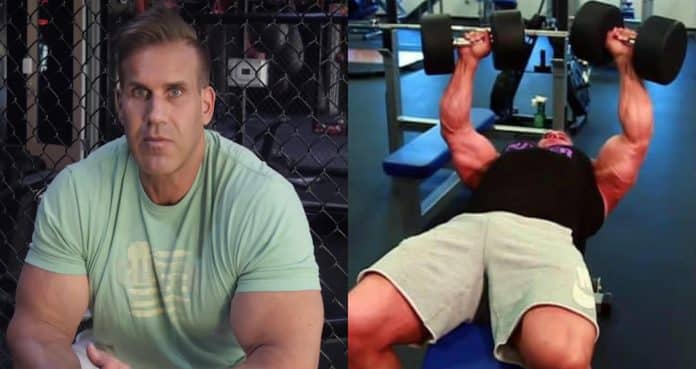 The 4x Mr. Olympia shared the chest workout to build an elite bodybuilder's torso. 
Do your bodybuilding plans include building a bigger chest? How about getting advice from Mr. Olympia legend Jay Cutler? Cutler, in his prime, was known for his insane physique and is always ready to share a tip or two to help bodybuilders improve their workouts.
Jay Cutler is a 4x Mr. Olympia who dominated the bodybuilding scene in the 1990s. He won his Sandow trophies in 2006, 2007, 2009, and 2010. Before these wins, he had been runner-up four times. So if you're looking for motivation from an athlete who does not give up and still looks great today, there is no better person than Jay Cutler.
Jay Cutler is known for rivalry with fellow Mr. Olympia legend Ronnie Coleman. He spent over half a decade trying to dethrone the man before succeeding in 2006. After retiring in 2013, he remains up-to-date and is a prominent voice in the bodybuilding industry.
The quest to build a bigger chest never ends, and for Cutler, it's a part of his "Fit for 50" challenge. He shared a workout on his YouTube channel to build an Olympia chest-worthy physique. 
Full Name: Jay Cutler
Weight
Height
Date of Birth

265-275 lbs

5'9"

08/03/1973

Division
Era
Nationality

Men's Open

1990, 2000, 2010

American
Jay Cutler's Warms Up Calves Before Chest Workout
View this post on Instagram
Before the chest workout, he did some calf exercises to warm up. 
Exercises
Standing Calf Raises
Seated Calf Raises
Standing Calf Raises
Calf raises are a great way to warm up and work on your calves. Unfortunately, many bodybuilders tend to omit their calves when exercising, and this isn't good for bodybuilding — you can't have any weak link to compete with the best of the best. It can also lead to injuries since your calves are essential for balance when running, walking, and weight training (1). 
Take it from Mr. Olympia, who was known for his quad-stomp pose, Jay Cutler:
"What is the number one calf movement to build the calves? Standing Calf Raises. I focus on calf training once every five to seven days. I try to do two or three movements. Two now that I'm retired. I would try to do three if I were competing… If you do two movements, it will be standing and seated."
Calf raises help to strengthen the gastrocnemius and give you muscular and lean legs. Jay Cutler uses the smith machine for his standing calf raises and focuses on doing 12 repetitions. He also used plates to create a platform for deeper calf extensions to target the muscles better. 
Seated Calf Raises
Seated calf raises are another variation of calf raises, and Jay Cutler uses the seated calf raise machine for his routine. With the machine, you can use weights and an elevation to ensure that your calf muscles are engaged. Jay Cutler stated:
"This is one of those exercises where I didn't feel it so much. I had to figure out the right position. So I tuck myself under a bit more instead of being laid back. With a bit more bend at the knee, it works more of the outer edge."
Jay Cutler's Olympia Chest Workout
View this post on Instagram
Here is the chest exercises the four-time Olympia did. Let's review them below. 
Exercises
Machine Chest Press
Incline Chest Flyes
Flat Dumbbell Press
Power Press
Machine Chest Press
The machine chest press is a fabulous exercise that engages your pecs, triceps, and front delts as the targeted muscle groups. But that's not where it ends; your biceps, lats, rotator cuffs, rhomboids, and traps are also involved. 
Machine chest presses also help you build your upper body strength. The advantage of using the machine is that you get more stability, requiring less balance or coordination. This helps you focus more on the movement without worrying about injury and control to get better gains. 
"This is always my go-to warm up. 45 to 50 seconds rest guys between each set."
Incline Chest Flyes
Incline chest flyes are a great way to target your upper pectorals and improve your chest width. This exercise also works your shoulders and your triceps. They're considered one of the best exercises for building the chest. Using machines to do your incline chest flyes gives you an edge because you can adjust them to target different areas of your chest. For this exercise, Jay Cutler does 11 or 12 reps in each set, and Jay Cutler says:
"I think the medium grip on this is the best."
Flat Dumbbell Press
The flat dumbbell press is one of the most superior chest-building exercises. It gives independent loads to each arm, ensuring equal loads on each side. This helps to eliminate the problem of one arm being stronger. Flat dumbbell presses are also great for muscle growth. The longer your muscle's time under tension, the more stimulation your muscles receive (2). Jay Cutler loves the flat dumbbell press and does twelve repetitions in each set.
"Alright, so I'm gonna do my favorite exercise in the world, a flat dumbbell press… The wrong way to do it is to come up and to actually touch the dumbbells together… because when you're doing that movement, you're actually bringing the triceps in. Ideally, you wanna treat it as a straight up and down motion and as I'm doing that, I'm squeezing my chest. The point is to keep the shoulders back and the chest out. I squeeze through every repetition." 
Power Press
The final pressing exercise that Jay Cutler included in his Olympia chest routine is the power press, aka standing chest press with a machine. This is another chest workout that targets your shoulders, pecs, and triceps. And since it's a free-weight movement, it involves your chest.
Standing chest presses also improve your balance. It's great for athletes with good form and is a great way to top-off your workout. Jay Cutler did five reps in each power press set to finish his routine.
Check out more about Jay Cutler's Olympia chest workout on his YouTube Channel below:
Follow us on Instagram, Facebook, and Twitter for more Olympia bodybuilding workouts! 
References
Mann, R. A., & Hagy, J. (1980). Biomechanics of walking, running, and sprinting. The American journal of sports medicine, 8(5), 345–350.

https://doi.org/10.1177/036354658000800510

Fry A. C. (2004). The role of resistance exercise intensity on muscle fibre adaptations. Sports medicine (Auckland, N.Z.), 34(10), 663–679. https://doi.org/10.2165/00007256-200434100-00004