This seven-time Olympia winner known as "The Gift" holds the record for second-most Olympia wins tied with another bodybuilding legend, Arnold Schwarzenegger.
Mr. Olympia 2020 is gearing up to be an exciting event as the world's best bodybuilders seek to claim that top podium spot for the chance at being crowned best in the world. With the ultimate prize in bodybuilding on the line, athletes will walk the biggest stage in the sport as they show off their physique in attempts to take home the highest prize possible. Given COVID restrictions, the location and date had to be moved to accommodate a safe and efficient contest, but organizers worked diligently to find an alternative and settled on Orlando, Florida as their best option. Now ready to give fans a great show, Mr. Olympia 2020 is once again back in motion.
Many great bodybuilders will show off their hard work at Olympia 2020, but we thought it would be fun to take a trip down Olympia memory lane to remember some of the greats that gave us great shows and brought the sport to where it is today. With names like Arnold Schwarzenegger, Ronnie Coleman, and Dorian Yates already covered, we wanted to give Phil Heath his time to shine. A seven-time Olympia winner, Heath is certainly one of the greatest bodybuilders of all time.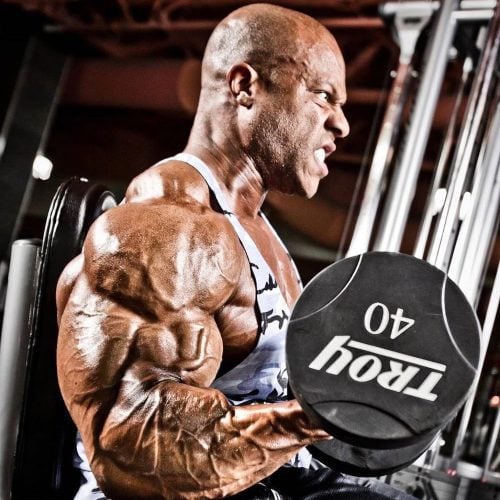 Early Life
Phil Heath was born in Seattle, Washington to two loving parents and the chance to be active and show off his athletic skills. His parents were both very successful and were often times too busy with work, so Heath was left alone to figure things out for himself. Having to teach himself basic skills, it instilled a value of hard work and determination that would serve him well once his bodybuilding career took off.

As a young man, Heath was a great basketball player, playing in high school and fine tuning his skills to get even better than just his natural ability. Earning a scholarship to the University of Denver in Colorado, he put his head down into his studies and focused on basketball. It was here that he discovered lifting, and all the time spent training for basketball would lead to him seeking more once bodybuilding entered the picture.
After taking a job at a gym, he began to see bodybuilding as a real outlet and dedicated his time to learning as much as he could about supplementation, nutrition, and training. His first competition was in 2003 at the Rocky Mountain Northern Physique Committee where he took home the top prize. "The Gift" was born and there was no looking back for Heath.
After earning his pro card, he attended big events and began making a name for himself. Seeking to improve his diet and form, he looked to 2008 to be his best year yet. After winning the Iron Man Show and taking second at the Arnold Classic, he competed in the 2008 Mr. Olympia contest and took third, the first time a debut bodybuilder finished in that spot since Flex Wheeler some 15 years prior.
Mr. Olympia 2011-2017
Now a serious force in the bodybuilder world, Heath has his sights set on winning Olympia. Working on his form, perfecting poses and his training, and sticking to a strict diet and supplement routine, Heath won his first Mr. Olympia in 2011. For the next six years, he would be the only person crowned Mr. Olympia. A second place finish would end his reign as Olympia champion when he finished just short of Shawn Rhoden.
Although a disappointing end to his first place run, it was impressive nonetheless. His Olympia win streak tied him for second with the great Arnold Schwarzenegger and put him one win shy of tying first place record holders Lee Haney and Ronnie Coleman, both of who have eight Olympia wins. From his humble beginnings in basketball to his historic run as a bodybuilder, Heath certainly cemented himself in the record books as one of the best to walk the biggest stage in the sport.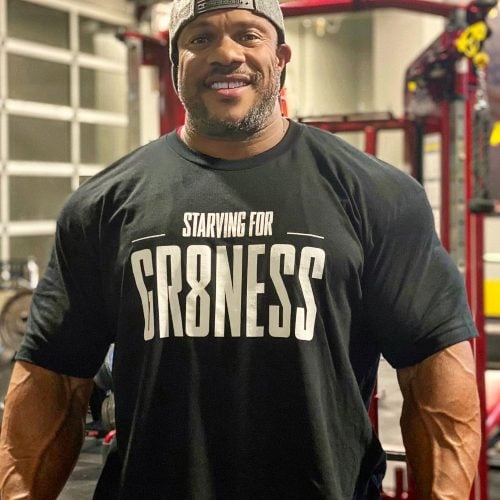 Phil Heath's Legacy
Heath was keen on sticking to the basics as a way to improve your training method. There is no point in trying to reinvent something or be different. If something works, then stick to it. It may be potentially changing the order around to cause some muscle confusion and change things up, but there is no need to complicate your style of training. Heath was also big on knowing when you're overtrained. Listening to your body and paying attention to what it needs will yield the best results when it comes to your training and keeping you both physically and mentally healthy.
Heath also owns his own supplement line called Phil Heath Labs, a company seeking to produce the best supplements for all athletes to thrive in their respective sports. Seeking to make top tier products to aid in overall health and performance, Phil Heath Labs seeks to provide great expertise so you will look good, feel great, and use supplements of the highest quality for your training and performance.
Olympia 2020 will also be even more exciting now that Phil Heath has confirmed he will compete. Heath has unfinished business to do as he seeks to win one last Olympia contest to tie him in the lead for first. Fans have been wondering since 2018 if Heath would return as this competition is bound to be one of the best ones yet as a legend walks among rising competitors for the biggest prize in the sport.
Wrap Up
Phil Heath is considered one of the greatest bodybuilders of all time with seven total Olympia wins, all consecutive victories. Holding the top spot for so long, Heath focused on his training, diet, and supplementation, as well as those principles he learned at a young age. Now determined to take title number eight, Heath will return to Olympia 2020 in his quest to squeeze out one more victory. "The Gift" just might make the holidays even better for fans if he can stand tall on that podium for one last time.
Let us know what you think in the comments below. Also, be sure to follow Generation Iron on Facebook, Twitter, and Instagram. 
*Images courtesy of Phil Heath Instagram