Enhance Your Performance All Around
Gentlemen, your performance is something you want to keep in check. Whether that be in the gym, bedroom, workplace, wherever, you want your performance to be the best it can be so you do not disappoint. You want to be that supercharged male. However, as time goes on, your testosterone levels begin to drop off, libido decreases, fat levels change, and so on. This can be a problem associated with age, but also existential factors such as stress as well as diet and workout routines, and even more can contribute.
So what do you do? You can clean up your diet and workout more, but many people turn to supplements for that extra boost! Unfortunately, the supplement market is oversaturated with underdosed supplements advertising that they help men's testosterone levels, libido, and performance as a whole. Yet again, InnoSupps stands out with their products for help in this department. 
InnoSupps provides quality supplements that boost testosterone, improve libido, and cut fat, and when you combine them, can be the ultimate stack to be a supercharged male. Let's dive in.
Men's Health Overview
Testosterone is a sex hormone that plays important roles in the body. In men, is typically found to regulate sex drive (libido), bone mass, fat distribution, muscle mass and strength, and the production of red blood cells and sperm. As a man gets older, his testosterone begins to drop. This can lead to things like decreased libido, difficulty getting or maintaining an erection, loss in muscle mass, fat gain, amongst other issues. These are not pleasant and no one wants them. Men want to perform the best they can, whether it be in the gym, bedroom, or elsewhere.
So, what do you do?
Supplementation Overview
While diet and workouts are key factors in boosting male performance, supplements are something to turn to for help getting that extra boost. They can help get your hormones in check faster and more effectively, so you can obtain that better performance you are looking for. 
However, the supplement market is nothing short of saturated and there are a lot of junk supplements out there. InnoSupps is a brand that stands out with scientifically backed ingredients and proven results. That is why we will be going over the best supplements from InnoSupps for the guys.
T-Drive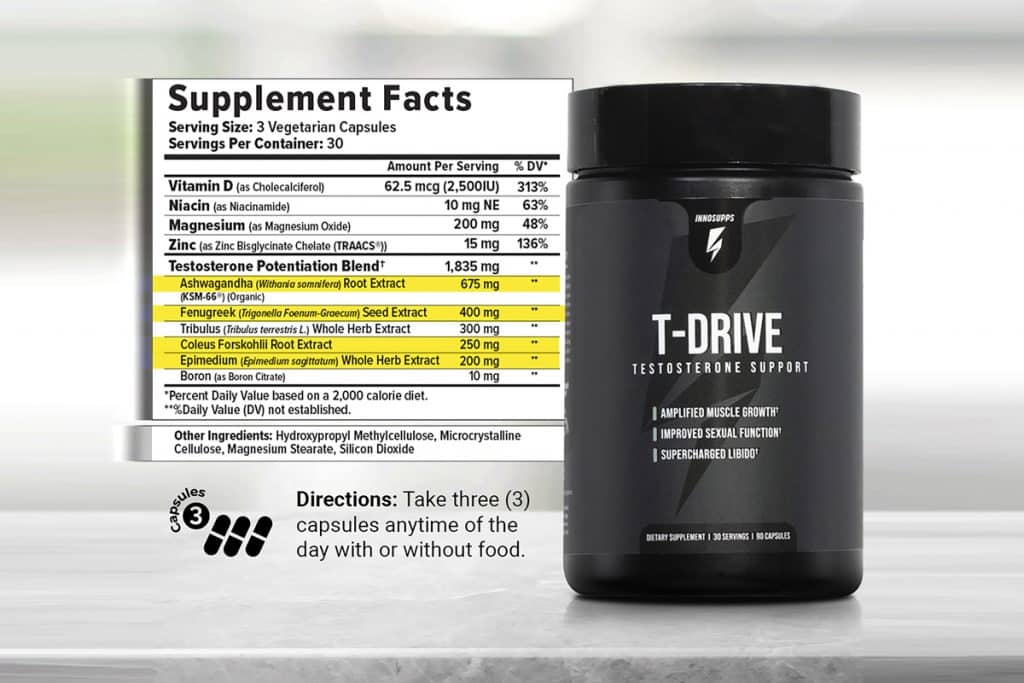 First on the list, is T-Drive. This natural testosterone booster stimulates and supports healthy hormone production while increasing energy levels in the gym and in the bedroom and improves overall male vitality. 
This includes ingredients such as KSM-66 (a form of ashwagandha) as well as fenugreek to boost testosterone levels and support male vitality as well as fertility. T-Drive also includes coleus forskohlii root extract and epimedium to increase your libido. 
Overall T-Drive does things like:
Helps Boost Semen Volume

Stimulates and Supports Testosterone Production

Promotes Overall Male Vitality

Effortlessly Increases Muscle Mass
Price: $69.99
Nitro Wood
Next up is Nitro Wood. Nitro Wood amplifies blood flow throughout your body, improving your overall wellness, energy levels and physical performance  in the bedroom and beyond! 
This contains ingredients like maritime pine bark and cinnamon bark powder to improve blood flow, alongside beet root powder to help with healthy blood pressure levels. It also features InnoSupps S7 blend to boost nitric oxide. This S7 blend includes things such as coffee bean and green tea leaf extract amongst other ingredients.  
Overall Nitro Wood does things like: 
Increases Energy Levels with Nitric Oxide

Supports Healthy Blood Pressure

Improves Sexual Function

Aids in Natural Immune Support
Price: $42.99
Night Shred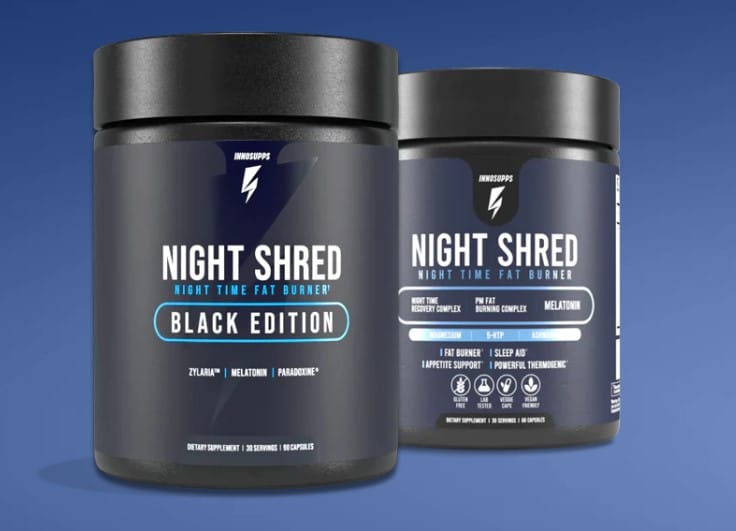 Night shred can be found in two different versions, Night Shred or Night Shred Black Edition. Night Shred maximizes the quality and quantity of your sleep. You'll sleep deeper and better while priming your body to accelerate the fat-burning process.
They include ingredients like GABA, chamomile, Valerian Root, and melatonin for rest and recovery. Then to burn fat, there are ingredients such as grains of paradise, CLA, and L-Carnitine. For naturally relieving stress, ingredients such as ashwagandha, xylaria, and 5-HTP are used.
Overall, Night Shred and Night Shred Black Edition do things like: 
Helps Sleep Deeper and Longer

Helps Boost Metabolism

Enhances Overnight Muscle Recovery

Naturally Relieves Stress
Price: $35.99
The Supercharged Male Stack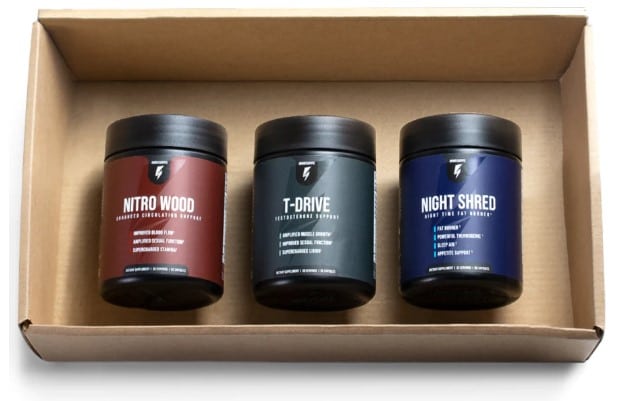 Sure, you can purchase each product separately, but you can also purchase them as a stack, and get that triple threat performance enhancement. InnoSupps offers T-Drive, Nitro Wood, and Night Shred all together, as the Supercharged Male Stack. It saves you time, a little bit of money, and gives you the chance to experience all the great benefits of these three products all at once. 
Price: $139.99
However, InnoSupps offers a "subscribe and save" option, where you can subscribe to receiving the Supercharged Male Stack every month and save 25%. This option drops the price to only $104.99.
You also can purchase the Supercharged Male Stack for one month, or three months. The price per bottle for each option is listed below.
1 Month Supply: $46.66 per bottle/$139.99 Total
3 Month Supply: $38.88 per bottle/$349.99 Total
Supercharged Male Stack Reviews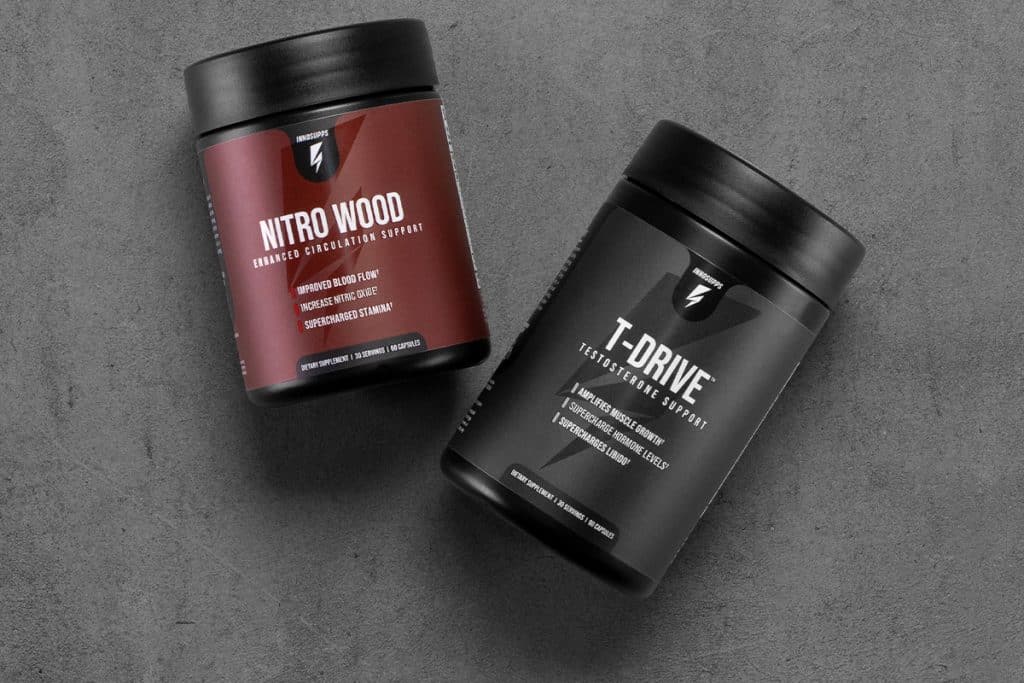 We cannot forget to leave out the reviews, being that they are so good it only solidifies our choice to stand behind this product. Currently, there are 9,443 total reviews for the Supercharged Male Stack. Out of that number, 8,375 of them are five stars, with 808 reviews being four stars. The men are raving over this stack, and for good reason!
Frequently Asked Questions
You may have some questions you want answered before you purchase, and that is more than okay. We are ready to answer.
Why Should I Use Supplements? 
Not everyone deems supplements as necessary, and they are not something to be entirely relied on either. Supplementation makes it easier for you to get a good amount of the necessary nutrients you may not get solely from your diet or lifestyle. Supplements are not really meant to replace anything entirely. For example it is not recommended to take a Vitamin D supplement and then never expose yourself to sunlight again.
Why Choose InnoSupps?
You may be questioning as to why you would even choose Inno Supps, and it is true that many supplement companies offer products for improving male performance. However, Inno Supps products are physician-backed. The whole Supercharged Male Stack is endorsed by Cedars-Sinai Cardiologist Dr. David M. Filsoof, M.D. This is something not many supplement companies can offer, physician backed products, and is one reason InnoSupps stands out.
Inno Supps also offers a "Subscribe and Save" deal, where you can subscribe to monthly supplements, and save 25%. Not to mention, you get a 30-day money back guarantee if you are not satisfied.
Superchrged Male Stack Wrap Up
Overall, male performance is something that should be kept up on. Men are susceptible to their testosterone levels dropping, libido decreasing, fat levels increasing, and other unwanted effects. While the supplement market for countering these issues is overcrowded, InnoSupps stands out with T-Drive, Nitrowood, and Night Shred, making up the Supercharged Male Stack. 
Will you be trying it out?