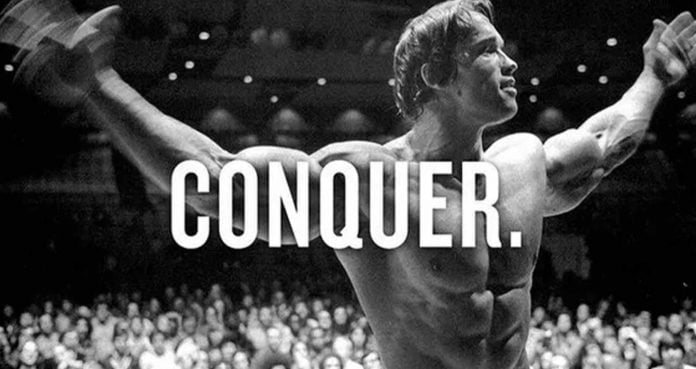 Everybody knows that pro bodybuilders can be very outspoken. Can you blame them? They work as hard as they can, to be the best at what they do. So when they reach the pinnacle of their career, it's only expected that they will offer up advice. It is up to you if you will listen or not.
Here are our Favorite Quotes by Some our Favorite Bodybuilders:
---
Arnold Schwarzenegger
"The worst thing I can be is the same as everybody else."

"Vision creates faith and faith creates willpower. With faith there is no anxiety and no doubt – just absolute confidence in yourself."
Beginning his weight-lifting career at age 15, Schwarzenegger went on to win the title of Mr. Universe at 20-years old and is a seven-time Mr. Olympia winner. Schwarzenegger is recognized as one of the pro bodybuilders that competed in the Golden Era. After retiring from an amazing bodybuilding career, as well as one of powerlifting, he became an action star and the Governor of California.
---
Ronnie Coleman
"Everybody wants to be a bodybuilder but don't nobody want to lift heavy ass weights!"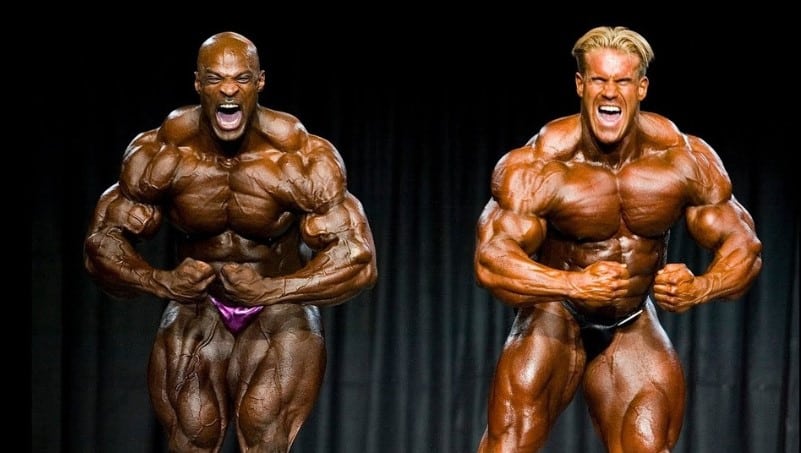 Coleman is a former pro bodybuilder who went on to win Mr. Olympia eight years in a row. As one of the greatest pro bodybuilders of all time, he held the record for most wins as an IFBB professional with 26 titles. That record was broken by Dexter Jackson. This quote can be used with anything and is versatile for whatever the case may be.
---
Dave Tate
"If you're capable of sending a legible text message between sets, you probably aren't working hard enough."
As a successful bodybuilder and powerlifter, Tate managed to reach an elite level with three different weight classes and is known for his monster lifts. He may not be one of the "pro bodybuilders" like some on the list, but his quote is just as impactful as any. As the founder of EliteFTS, he is also a writer and fitness guru with a unique style.
---
Lee Haney
"Rule of thumb: Eat for what you're going to be doing and not for what you have done. Don't take in more than you're willing to burn off."
Haney is another one of the best former pro bodybuilders ever. He shares the record of eight Mr. Olympia wins with Coleman. He was even appointed by former President Bill Clinton as the chairman of the President's Council on Physical Fitness and Sports! This is an organization which promotes and encourages Americans to be active and participate in sports.
---
Kai Greene
"If I Have To Die Tonight , If This Weight Is Going To Kill Me Tonight, SO BE IT! I'm Dying Where I Wanna Be…"
Kai Greene is another well known competitor and one of the more recent pro bodybuilders. He is personal trainer, and actor who placed second in three consecutive Mr. Olympia competitions. He is also a three-time Arnold Classic winner and an expert for Generation Iron.
---
Phil Heath
"Being negative and lazy is a disease that leads to pain, hardships, depression, poor health and failure. Be proactive and give a damn to achieve success!"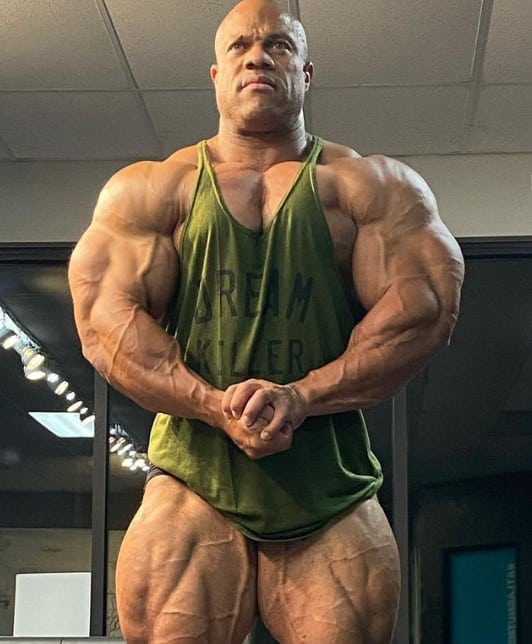 Phil Heath is also considered one of the high ranking pro bodybuilders, being a seven-time winner of Mr. Olympia. He is tied for the second most wins with Schwarzenegger behind Haney and Coleman. His 2008 Mr. Olympia debut saw a third place finish, making him the first novice to place in the top three since Flex Wheeler in 1993.
---
Branch Warren
"It took me 20 years of hard training to get the physique I have today. What you need is what I had – belief in yourself!
Branch Warren is one of the very well known pro bodybuilders. He has wins at the Arnold Classic in 2011 and 2012. He has competed in many events including Mr. Olympia and various Grand Prix's.
---
Mark Bell
"The road to nowhere is paved with excuses."
Bell is a World and American record holding professional powerlifter, as well as a coach and fitness expert. He is ranked in the top 10 for all-time powerlifters. His gym, Super Training Gym, trains a wide array of athletes helping each achieve their own personal goals.
---
Henry Rollins
"The Iron never lies to you. You can walk outside and listen to all kinds of talk, get told that you're a god or a total bastard. The Iron
will always kick you the real deal. The Iron is the great reference point, the all-knowing perspective giver. Always there like a beacon in
the pitch black. I have found the Iron to be my greatest friend. It never freaks out on me, never runs. Friends may come and go. But two hundred pounds is always two hundred pounds."
Rollins is an American musician, actor, comedian, and activist who used weightlifting as a tool to change his life. In an essay titled Iron and the Soul, he recounts how one man introduced him to weight training which changed the course of how he viewed life. He now uses his platform as a tool to campaign as a vocal activist.
Additional Motivation From Others That Aren't Pro Bodybuilders
On the flip side, pro bodybuilders are not the only people that have something good to say. There are plenty of other quotes that do not come from them! So, let's dive in to motivational quotes that are from individuals other than pro bodybuilders.
Muhammad Ali
"I hated every minute of training, but I said, don't quit. Suffer now and live the rest of your life as a champion."
Muhammad Ali is one of the greatest boxers of all time and his nickname "The Greatest" proves it. Out of 61 total fights, he held a record of 56 wins and 5 losses with 37 knockouts. He was also an Olympic gold medalist and champion of social causes, including race and religion.
---
Ayn Rand
"The question isn't who is going to let me; it's who is going to stop me."
Rand was a Russian-American writer and philosopher best known for developing the philosophical system called Objectivism, which comes from the idea that human knowledge and values are objective and exist in reality for one's mind to discover. She had social and political influence and her ideas still stand today.
---
"Pain is temporary, pride is forever."
– Unknown
Wrap-Up
Overall, motivation and discipline are key things that will keep you going and growing in life. You cannot excel without these two things. Motivation can come from anyone, whether it be pro bodybuilders or someone else.
But we hope that you take away something valuable from these quotes!
Let us know what you think in the comments below. Also, be sure to follow Generation Iron on Facebook, Twitter, and Instagram.