The biography, life, and accomplishments of Dorian Yates
One of the most iconic bodybuilders in the history of the sport has to be Dorian Yates, also known as "The Shadow". The 6 time Mr. Olympia champion changed the sport forever, bringing a never before seen look to the stage with his size and conditioning. He was the original mass monster.
Below is a complete breakdown of Dorian Yates's profile, stats, biography, training and diet regimens.
Full Name: Dorian Yates (Bodybuilder)

Weight
Height
Date Of Birth
240-290 lbs
5'10"
4/19/1962
Division
Era
Nationality
Bodybuilder
1980, 1990
British
Dorian Yates Biography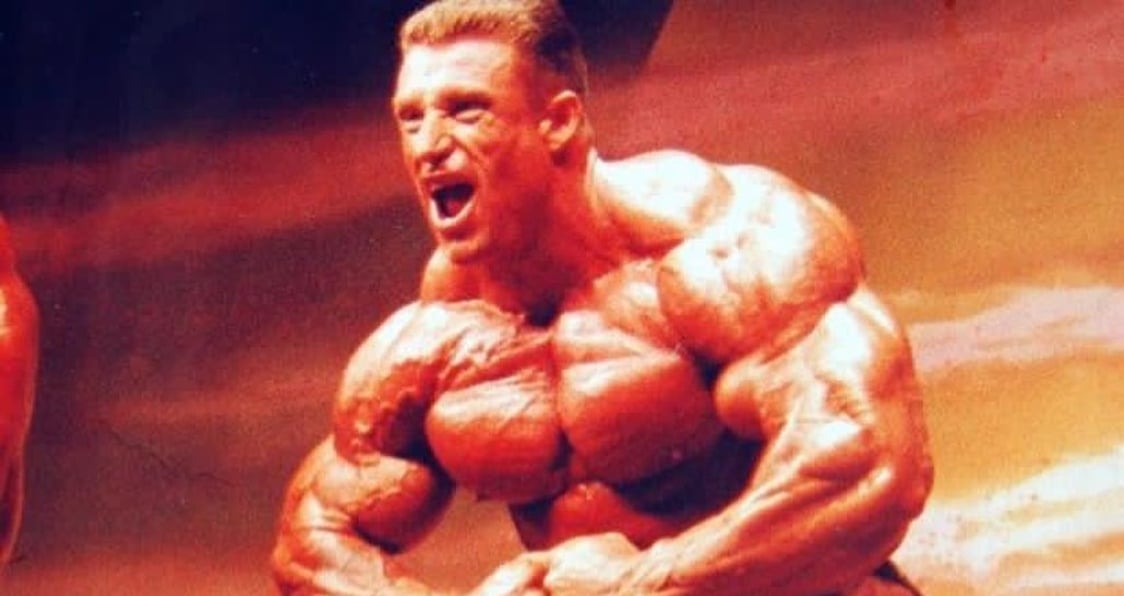 Dorian Yates is an IFBB-certified pro bodybuilder from the UK. He was born in Walmley, England but spent his childhood in Staffordshire and later relocated to Manchester in his teens. He has won the Mr. Olympia title six times.
Yates had a troubled childhood and was sentenced to 6 months in a youth detention center during the early 1980s. He began training seriously in 1983 and made his pro debut at the IFBB 1990 Night of Champions. He was forced to retire fairly early from bodybuilding in 1997 due to a succession of injuries. However, he famously won 1997 Mr. Olympia despite competing with two torn biceps and a torn tricep.
Currently, Yates owns four Temple Gyms in the UK and sells a line of athletic apparel and books in the US under the brand name Heavy Duty. He also sells his own line of supplements. In 2015, he produced a documentary based on his life and experiences on the professional bodybuilding circuit, All I Know is Pain.
Dorian Yates Competition History
Dorian Yates has an extensive, and impressive competition history. He is a veteran in the industry, and a pioneer for the mass monsters. So, let's take a look.
1984 Mr. Birmingham: 1st place (novice)
1985 Novice West Coast (England): 1st place
1985 World Games (London): 7th place
1986 EFBB British (London): 1st (Heavyweight)
1988 British Championships: 1st place
1990 Night of Champions: 2nd place
1991 Night of Championships: 1st place
1991 Mr. Olympia: 2nd place
1991 English Grand Prix: 1st place
1992 Mr. Olympia: 1st place
1993 Mr. Olympia: 1st place
1994 Grand Prix Germany: 1st place
1994 Grand Prix Spain: 1st place
1994 Grand Prix England: 1st place
1994 Mr. Olympia: 1st place
1995 Mr. Olympia: 1st place
1996 Mr. Olympia: 1st place
1997 Mr. Olympia: 1st place
In between bodybuilding shows, Yates would disappear back to his dungeon gym and no one would see him or hear from him for months on end, that is how he earned the nickname "The Shadow". He would be practically in hiding, then come out and win these shows, and disappear again.
Training
Now, Yates was one of the first people to be considered a "mass monster", and he even stated that he could have came in bigger. But, in order to get to the level he did, and become one of the first mass monsters, Yates trained with the utmost intensity. He poured his blood and guts into his training, and you can see some of that in his videos. Check out a training clip from the movie Dorian Yates: The Original Mass Monster: 
Yates was a big advocate for high intensity training, or HIT for short. He did not spend countless hours in the gym, nor did he spend that many days a week in the gym. In reality, he spent about an hour per training session, had four training sessions per week, and gave it his all in each one. He also utilized heavy compound movements such as the barbell row and the barbell bench press, to really build a solid foundation.
When Yates was newer to the game, he only completed around four to eight working sets per body part. Much like Golden Era bodybuilder Mike Mentzer, Dorian Yates put a large emphasis on low reps. He would be seen doing six to eight for most body parts, however he would do more for legs and abs. As time went on and he would get closer to competitions, Yates pushed these sets beyond failure, accompanied by two to three forced reps on top of that. He also incorporated drop sets, rest-pause, and partials on occasion.
By the time he received his first of six consecutive Sandows, Dorian had settled on a training style that consisted on just one all-out working set per exercise. Before this ultimate top set, he pyramided warmup sets, sometimes doing as many as three warmups, going increasingly heavier on each set.
This contrasts a lot of other modern day bodybuilders who prioritize higher reps and more frequency amongst the muscle groups.
Dorian Yates Training Journal
Dorian Yates kept rigorous and detailed journals throughout his entire bodybuilding career dating back as early as his first bodybuilding competition. For the first time ever, Dorian's journals have been published by Generation Iron highlighting passages between 1985-1990. The pages contained in this E-Book are the actual writings of Dorian Yates as he trained towards becoming a six time Mr. Olympia champion. The training journal serves as a perfect example of just how hard he worked and how detailed Yates was in order to see the results in his training and performance.
Injuries
While Yates' training was nothing short of unique and certainly effective, eventually he did have to retire due to his injuries. He had a hip injury in the 80's that forced him to stop squatting, but then Dorian had suffered injuries to his bicep and tricep, which eventually became too much.
Dorian stated that his tricep was torn almost completely off the bone 3 weeks out from a contest. Although he competed and won with this injury, he knew then that it was probably time to retire early, he called it a "forced exit". Now his training consists mainly of things like yoga, and more functional movements to keep his mind and body healthy without risking injury. Don't think that he completely abandoned weight training, because he is still partaking in it. You can see Dorian doing kettlebell swings for strength and power.
Nutrition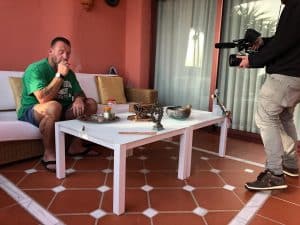 In order to build the physique that he did, training was only part of it. A lot of Dorian Yates' physique comes from his diet. The basic diet of a bodybuilder consists of eating every hour or two hours, and making sure to have a properly balanced carb, fat, and protein intake.
Let's look at a typical day of eating for Dorian:
7-8 AM (Breakfast)
Porridge made with one cup of oatmeal (complex carbs), 10 egg whites (protein), and one scoop of protein powder, blended and cooked
9-10 AM
11 AM
12 PM 
1 PM (Lunch)
Two chicken breasts, potatoes or rice, and a green vegetable
3:30 PM
Protein shake or meal-replacement drink
5:30 PM (Dinner)
12 oz filet mignon, potatoes or rice, and a green vegetable
8-9 PM
A small serving of porridge, made with 1/2 cup of oatmeal, six egg whites, and 1/2 scoop of protein powder
Dorian's Take on Bodybuilding
You would think that a man who won the Olympia 6 times, that he would be forever in love with bodybuilding. However, while he did love it during his reign as Mr. O., he also is grateful for getting out when he did. When he speaks about the sport, he calls his career ending injuries a blessing in disguise. He said that bodybuilding began to start feeling like a job, and he was even hospitalized for bleeding in the stomach, this was just weeks before his career ending tricep injury.
Yates also mentions that that a lot of younger generations of bodybuilders are not being careful with their health. He said that when you're in your twenties, you think your invincible and really do not think about your health, but as you get older that changes. His advice is to look at the risk to reward ratio.
Dorian Yates Personal Life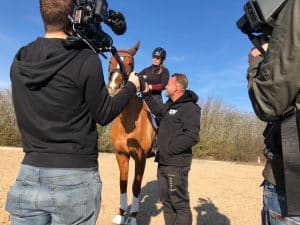 Now that he is retired, what is Dorian Yates up to? The 6x Olympian is enjoying retirement, and still maintaining a great physique for his age, making sure to stay healthy. Occasionally, Dorian does some collaborating with us at Generation Iron.
If you really want a deeper look into the life of the bodybuilder and all he did within the sport and after, you can check out Dorian Yates: The Original Mass Monster. This film goes in depth into the life of Dorian and profiles his life and all that was involved in his "blood and guts" training style that helped craft the physique that brought him six Olympia wins.
Wrap Up
Overall, Dorian Yates was a man that came from a troubled past and went on to win the highest bodybuilding competition you can win not once but six times. He poured everything he had into his unique training style and brought a package to the stage that completely changed the game, Dorian Yates truly was the original mass monster.
Do you think Dorian Yates changed the sport for the better?