This week long workout from Michelle Lewin is perfect for toning out that shredded physique.
Michelle Lewin is an IFBB competitor, model, actress, and fitness icon known for an amazing physique. With an entertaining and educational social media presence, matched by her dedication to sculpting and perfecting her physique, Lewin is a prime example of what hard work can do.
While we all seek to find the best workouts possible for ourselves, it can be challenging sometimes to find the right ones that help us to achieve our goal physiques. But looking to the professionals and those who have gone before us can prove to be incredibly worthwhile especially as we look to put on do things such as burn body fat, build muscle mass and get stronger. Since they are living proof of what can happen, for they have done these exercises before, who better to learn from than those athletes with the perfectly sculpted and massive aesthetics already.
Michelle Lewin is someone who has gone through trials and tribulations in the industry, and her humble beginnings took her from an average fitness enthusiast to a force in the fitness world. From winning pro bodybuilding events, to starring in music videos, and running a successful social media channel, Lewin has proved who she is to those in the fitness community.
Let's break down her routines.
About Michelle Lewin
Full Name: Michelle Lewin

Weight
Height
Date Of Birth
125-135 lbs.
5'4''
02/25/1986
Profession
Era
Nationality
IFBB Competitor, Model, Actress
2010
Venezuelan
With her modeling career forcing her to stay in shape, she learned to love the gym and became obsessed. That obsession turned into a passion and now she uses her platform to help others get in the shape they want to be in. Her busy workout week keeps her grinding hard every day so she can see those gains she wants most. However, she was not always into the gym like this.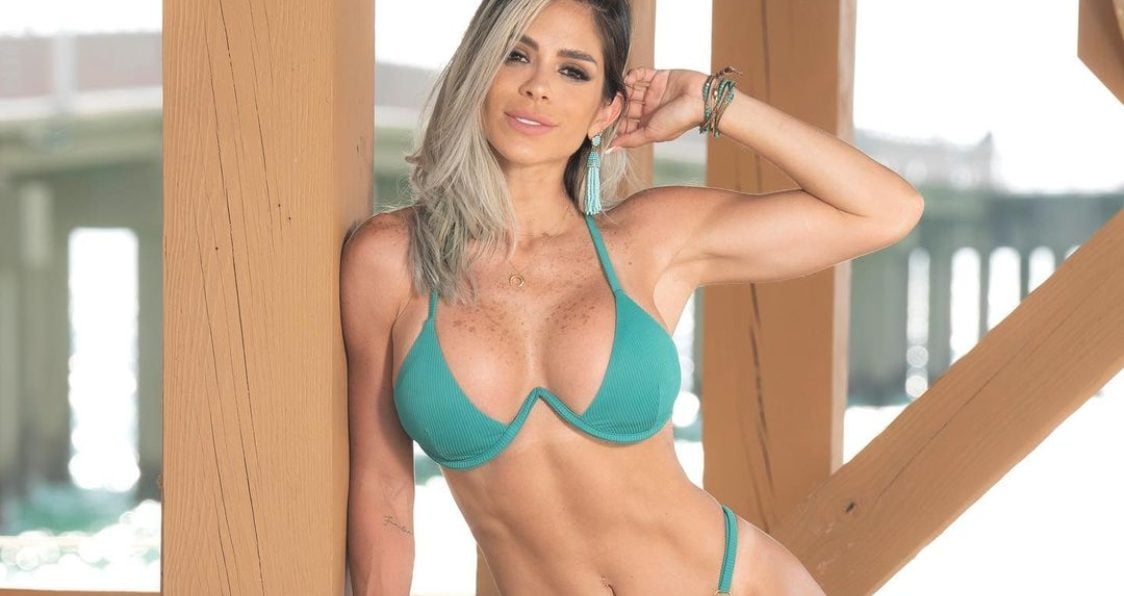 Growing up in Venezuela, Lewin was fortunate enough to have the opportunity to start a modeling career young. Eventually this would work in her favor and someone told her about opportunities beyond just modeling. This prompted her to enter into her first NPC bikini competition and soon thereafter, she was hooked. As someone who began to love the gym, Lewin began to grow and sculpt her body realizing she could have an illustrious career in a number of areas. As she began to perfect her physique, people began seeking her for more photo shoots and she would soon be a cover model for some of the biggest names in the industry.
Since then, Lewin has competed in a number of bodybuilding competitions finishing in the top 5-10 in many of them. Along with her modeling career, she has a successful social media channel with many followers who seek her advice on how to better themselves using her techniques. From diets, to workouts, supplements, and more, she works to better the lives of others using the tools she's used on herself.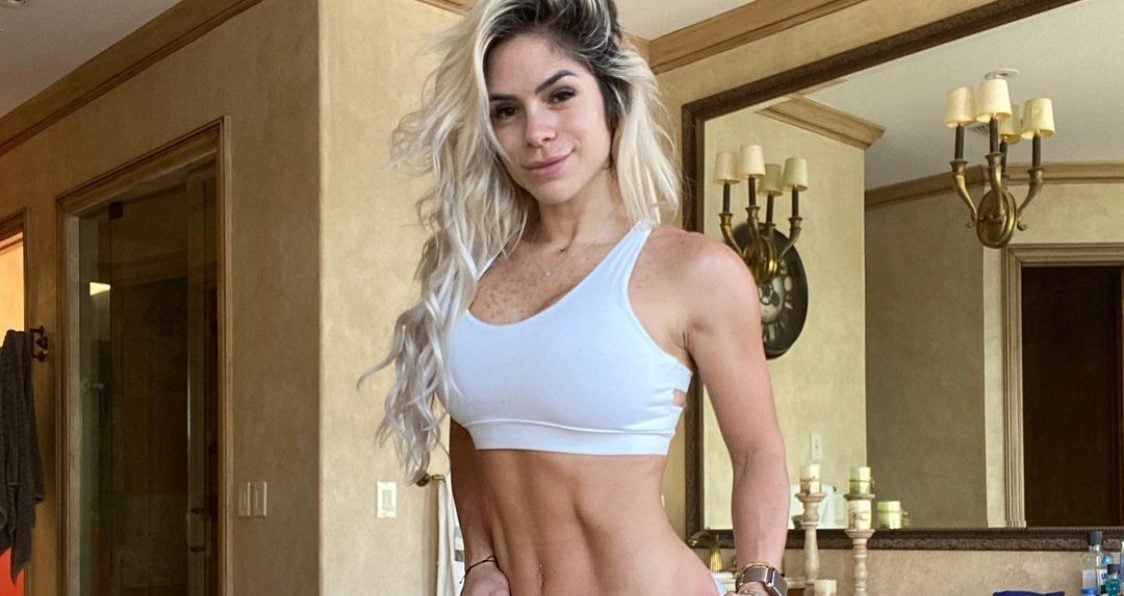 Michelle Lewin Training Routine
This training routine from Michelle will see 5-6 days of solid work with a great variety of exercises. Working 1-2 main muscle groups a day allows for focus on each respective group so you can start to really target them for growth and challenge them to perform. Working on effectively performing each exercise will prove to be beneficial as you seek to optimize all gains for that shredded physique like Lewin herself.
Day 1: Back and Biceps
| | | |
| --- | --- | --- |
| Exercises | Sets | Reps |
| Pull-Ups | 4 | 15 |
| Chin-Ups | 4 | 15 |
| Low Pulley Rows | 4 | 10 |
| T-Bar Rows | 4 | 8-10 |
| Dumbbell Bicep Curls | 4 | 10 |
| EZ Bar Bicep Curls | 4 | 8 |
| Straight Bar Cable Curl | 4 | 8-10 |
Day 2: Hamstrings & Calves
| | | |
| --- | --- | --- |
| Exercises | Sets | Reps |
| Lying Leg Curls | 4 | 12 |
| Seated Leg Curls | 4 | 10 |
| Deadlift | 4 | 8 |
| Seated Calf Raise | 4 | 12 |
| Standing Calf Raise | 4 | 12 |
Day 3: Triceps & Shoulders
| | | |
| --- | --- | --- |
| Exercises | Sets | Reps |
| Standing Dumbbell Triceps Extensions | 3 | 10 |
| Skullcrushers | 3 | 10 |
| Overhead Cable Extensions with Rope | 3 | 8 |
| Military Press | 3 | 10 |
| Dumbbell Shoulder Press | 3 | 10 |
| Upright Row | 3 | 12 |
| Side Raises | 3 | 12 |
| Front Raises | 3 | 12 |
Day 4: Optional Rest Days
For Day 4 in her routine, Lewin will use this as an optional rest day, to prioritize recovery. Depending on how she feels about her week and the subsequent progress, she will either focus on those muscle groups that are lacking or will take the day to rest and be fueled for her next days' workout.
Day 5: Legs
| | | |
| --- | --- | --- |
| Exercises | Sets | Reps |
| Lunges | 4 | 10 |
| Good Mornings | 4 | 12 |
| Leg Press | 4 | 10 |
| Squats | 4 | 8 |
| Barbell Stiff-Leg Deadlift | 4 | 12 |
Day 6: Abs
| | | |
| --- | --- | --- |
| Exercises | Sets | Reps |
| Hanging Crunches | 4 | 20 |
| Traditional Crunches | 4 | 20 |
| Crunches on Machine | 4 | 20 |
| Crunches on Ball | 4 | 20 |
Day 7: Rest Day
Typically a Sunday, Lewin will take this day to rest, recover, and enjoy doing other activities she loves.
As you can see, Michelle's workouts are a mix of exercises, using both compound and isolation movements as well as barbells and machines. She trains with decent volume as well, to make sure the muscles stay toned.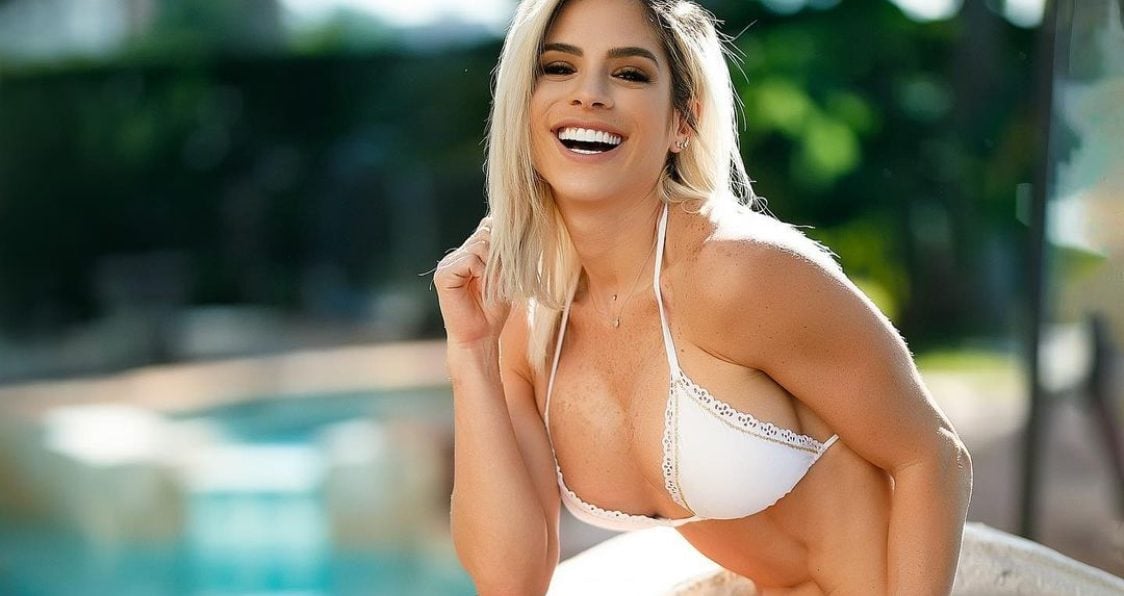 Featured Supplement
Diet is something to prioritize, but supplementation will help greatly with getting in the necessary nutrients as well. While Lewin uses her own supplements of choice, we thought it would be great to share an awesome supplement so you can see some serious gains as well. While we all know taking a protein powder or pre-workout is important, some other supplements may be overlooked. Of course, a creatine supplement can boost growth for both men and woman and a fat burner can work to shed that unwanted fat, but what about getting those nutrients into your body that we may miss from our diets?
A multivitamin can work to fill in any nutrient gaps to keep us much healthier overall.
Performance Lab NutriGenesis Multi For Women
Performance Lab NutriGenesis Multi For Women is perfect for women and female athletes looking to optimize training and performance. With 17+ essential daily vitamins and minerals, this formula is specifically calibrated to work for women's needs.
Performance Lab NutriGenesis Multi For Women is an awesome multi when it comes to active women and female athletes. With clean and effective ingredients, this ultramodern multivitamin for women is designed for overall health and peak performance. The 17+ essential daily vitamins and minerals are calibrated for the specific needs of women with a powerful NutriGenesis process and the vegan-friendly NutriCaps make digestion easy and all of those vitamins and nutrients are properly absorbed.
Price: $39.00/ 120 capsules
Check out our individual review for Perfomance Lab NutriGenesis Multi for Women here!
---
Wrap Up
This workout from Michelle Lewin will help to give you some amazing exercises so you can start lifting big and work towards getting that sculpted physique like Lewin herself. With a nice variety and a real challenge on each day, you absolutely can't go wrong with this workout and you won't be disappointed by the results. Give Michelle Lewin's workout a try and let us know what you think.
Let us know what you think in the comments below. Also, be sure to follow Generation Iron on Facebook, Twitter, and Instagram. 
*Images courtesy of Michelle Lewin Instagram and Performance Lab