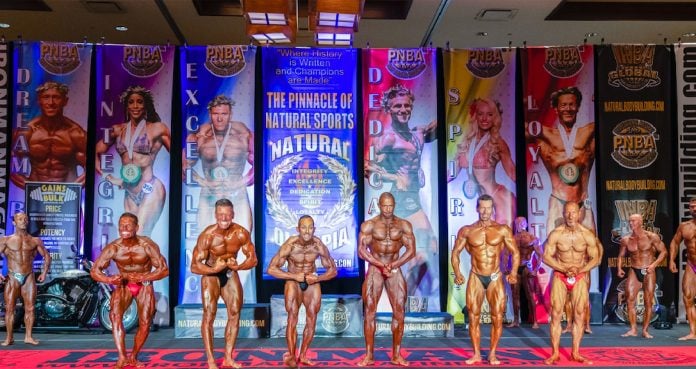 The 2022 INBA PNBA Pro/Am International Iron Man Magazine Championships show takes place this weekend!
The 2022 International Natural Bodybuilding Association (INBA)/Professional Natural Bodybuilding Association (PNBA) Pro/Am International Iron Man Magazine Championships show commences this upcoming weekend, July 30, 2022, in Hermosa Beach, CA. 
2022 INBA PNBA Pro/Am International Iron Man Magazine Championships is a big INBA PNBA show, and competitors are vying for a spot at 2022 Natural Olympia. The INBA PNBA released a statement highlighting the event on social media. They stated:
"4 Days Out! IRON MAN MAGAZINE PRO/AM INTERNATIONAL BODYBUILDING CHAMPIONSHIPS 

Date: July 30th 

Open To Professional & Amateur Athletes From Other Organizations⁠

Up To 15,000 Cash & Prizes Awarded⁠

All First Place Professional Winners Will Be Featured In The Next Issue Of IRON MAN MAGAZINE⁠!

Natural Olympia Qualifier for Professional & Amateur Athletes 

@generationiron Coverage 

Drug Tested with WADA Labs (Olympic Level Testing) ⁠

AND MORE! 

Location: Hermosa Beach CA, 

Community Theatre 710 Pier Ave, 90254

For more information visit ironmanmagazine.com⁠ or naturalbodybuilding.com"
The INBA PNBA's Instagram post below includes a highlight clip of the Iron Man Magazine competition. 
View this post on Instagram
INBA PNBA Pro/Am International Iron Man Magazine Championships
The Iron Man Magazine show is one of the INBA PNBA's more significant events. Additionally, some top INBA PNBA athletes with good standing with the league have multi-media contracts with Iron Man Magazine (and Generation Iron and INBA PNBA). Below is a list of a few of the multi-media contract athletes:
The INBA PNBA Pro/Am International Iron Man Magzine Championships is open to amateur (INBA) and professional (PNBA) athletes. Winners will receive up to $15,000 in cash and prizes, and first-place winners will be featured in the next edition of Iron Man Magazine. 
Of course, all show participants are drug tested with the World Anti-Doping Agency (WADA) labs. However, WADA only uses state-of-the-art drug testing procedures. And any competitor who fails a drug test will be stripped of any title and prizes he/she may receive. Plus, they'll be placed in the Hall of Shame. 
Also, contenders will earn a chance to qualify for Natural Olympia. 
Natural Olympia 
Denny Kakos founded the PNBA in 1990 because he wanted to create an organization for professional natural bodybuilders that gave out quality awards. Later, he expanded the PNBA to the INBA in 1994 to unite countries and expand natural bodybuilding globally. 
Natural Olympia is the Super Bowl of natural bodybuilding competitions. And in the natural bodybuilding world, it's equivalent to Mr. Olympia of the International Federation of Bodybuilding ad Fitness (IFBB) Pro league. 
The 2022 Men's Bodybuilding Natural Olympia winner will earn a spot on the list of Natural Olympia winners. The earliest winner dated back to John Hansen in 1998. 
Generation Iron will cover the 2022 INBA PNBA Pro/Am International Iron Man Magazine Championships competition. So follow us on Instagram, Facebook, and Twitter to stay tuned!