The Best Supplements for the Girls to get Shredded
Weight loss is a hard thing; some women struggle with it every day. You've probably tried the dieting and the training regimens with the extensive cardio, but it just isn't enough in your eyes. So, there are supplements on the market to really help you drop the extra weight, and get shredded. However, the supplement market is flooded with underdosed or misinforming products, so finding something that works is hard. However, companies like Inno Supps stand out with their quality products that deliver the results you are looking for. 
Inno Supps has a whole line of supplements to help you with each and every one of your needs, and getting shredded is something their supplements specialize in. They provide the consumer with so many different supplements for shedding fat and getting shredded, and when combined this can be the ultimate Female Shred Stack.
Getting Shredded: An Overview
When we say getting shredded, it does not necessarily mean you are Olympia ready with paper-thin skin and lines everywhere. What we mean is shedding off that unnecessary body fat and bloat, to show case the hard earned muscle. Getting rid of that unwanted weight can do a variety of things for you, and not just on the outside!
Shedding off unwanted weight can help you gain confidence, regulate hormone levels, and improve quality of life overall. As stated above, cardio and dieting are not always going to get you where you want, so supplementation is something to always be open to. 
Supplements provide the body with minerals and nutrients that it would not typically get enough of with just a clean diet. They can aid in the process of losing weight, gaining weight, or really whatever your goals are. However, the supplement market is overcrowded right now, and a lot of things are overpriced for rather low-quality products. Not to mention, a good bit of supplement companies are aimed more at a male audience. You want a company that provides quality products for a fair price, and Inno Supps fits that description perfectly.
Inno Supps has some great supplements for the ladies to get shredded, so let's dive in.
INNO GLOW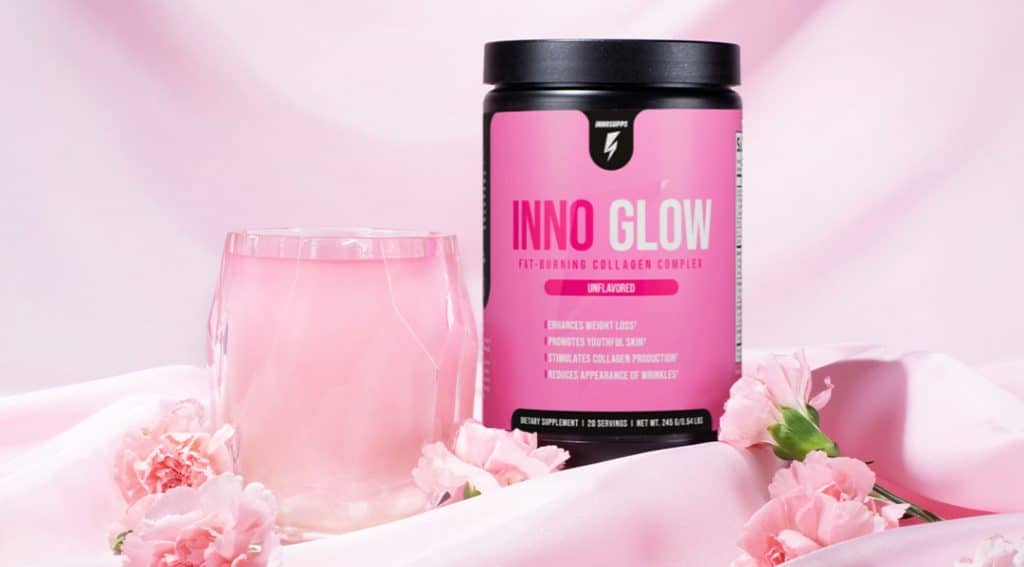 Fat-Burning Multi-Collagen Complex
First on the list is Inno Glow! This thermogenic multi-collagen complex contains patented, clinically studied ingredients to help burn more calories, ignite thermogenesis and even prevent fat gain for enhanced weight loss. It also contains four collagen sources and the collagen-boosting ingredient Astrion™ to reduce the appearance of wrinkles and promote smooth, glowing skin from within. Inno Glow comes in two flavors consisting of watermelon and tropical punch; it also comes unflavored.
Overall, Inno Glow does things like:
Amplify fat-burning

Enhance calorie burn

Reduce appearance of wrinkles by 15%

Firm, tighten and hydrate skin
Price: $69.99
INNO SHRED
Thermogenic Fat Burner
Next up is Inno Shred, one of our favorites! This potent daytime fat burner helps your body to continuously burn calories even AFTER you exercise. The combined ingredients of 100 mg of Capsimax® and grains of paradise help dramatically speed up the metabolism, reduce cravings and naturally increase BAT to burn stubborn belly fat.
There are four different types of Inno Shred you can choose from: 
Inno Shred is useful for things like:
Boosting metabolism

Burning stubborn fat

Suppressing appetite

Enhancing endurance
Price: $69.99
VOLCARN 2000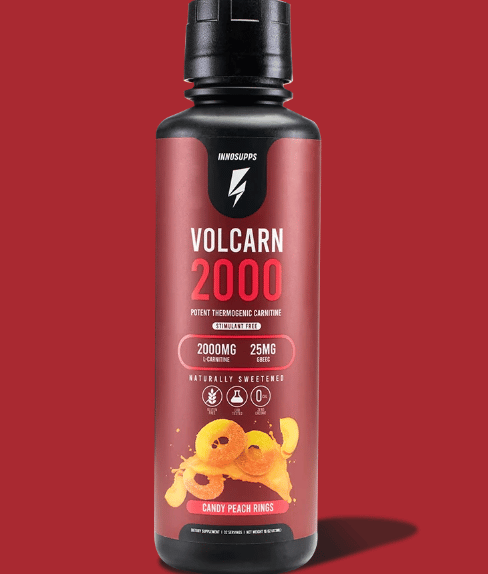 Potent Thermogenic Carnitine
This highly efficient thermogenic carnitine provides a metabolism boost while helping your body burn stored fat and convert it into energy. Expect to feel "hot" and burn more fat for up to 3 hours after taking Volcarn 2000. You can get Volcarn 2000 in the following flavors:
Sour Kids Candy

Pink Starblast

Tropical Blast

Rainbow Sherbet

Lemon Lime

Candy Peach Rings
Volcarn is good for things such as:
Amplifying energy

Potent thermogenic

Supporting metabolism 

Enhancing endurance
Price: $42.99
NIGHT SHRED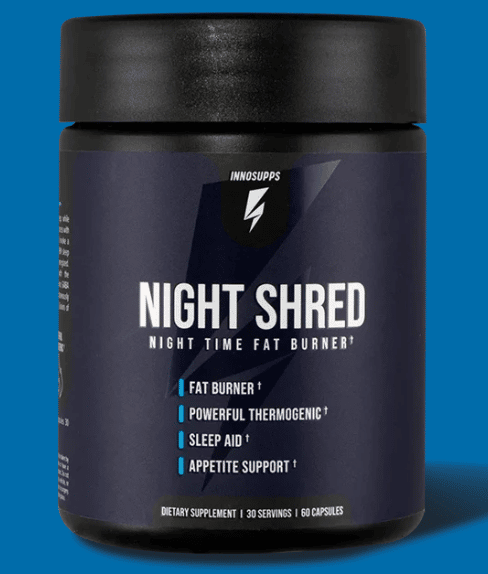 Nighttime Fat Burner
Night Shred is another one of our favorites from Inno Supps. Night Shred maximizes the quality and quantity of your sleep. With this product, you'll sleep deeper and better while priming your body to accelerate the fat-burning process. 
Night Shred comes in three different options:
Night Shred

Night Shred Black

Night Shred Black – Melatonin Free
Night Shred Is good for things like:
Sleeping deeper and longer

Boosting metabolism

Enhancing overnight muscle

recovery

Naturally relieving stress
Price: $64.99
INNO CLEANSE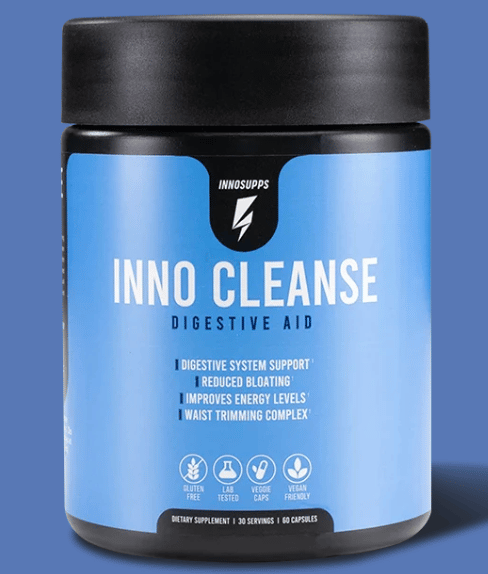 Total Body Detox
Inno Cleanse was mandatory to put on this list. This gentle, but powerful, detox works FAST to clean out harmful toxins, trim the waist and leave you feeling lighter and better overall. 
Inno Cleanse does things like:
Eases occasional constipation

Reduces bloating and water retention

Supports weight loss and minimizes cravings

Revitalizes energy levels
Price: $49.99
COMPLETE PMS SUPPORT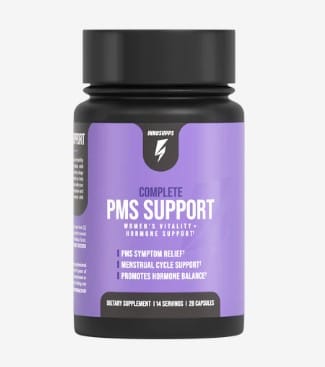 PMS Relief and Hormone Support
This female-focused formula contains ingredients that have been traditionally known to help ease the severity of symptoms that come with your monthly cycle.
Ease occasional PMS discomfort

Support a healthy menstrual cycle

Combat unhealthy cravings

Promote balanced mood
Price: $37.99
The Female Shred Stack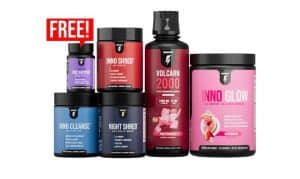 While you can purchase all of the products separately, it can be a time-consuming and pricey process. Luckily, Inno Supps also has the option to purchase them all together in the Female Shred Stack. This way, you can try all of the products together, saving yourself time and money. Not to mention, Inno Supps throws in a free shaker bottle with the Female Shred Stack!
The Female Shred Stack gives you the benefits of all the supplements. With the Female Shred Stack, get ready to:
Rev up the metabolism 24/7

Beat bloating and flush out waste

Experience deep, thermogenic sleep

Curb cravings and ease PMS symptoms

Reduce appearance of wrinkles

Grow longer, stronger hair and nails
You can purchase the stack for 1 month, or 3 months.
1-Month Price: $169.99
3-Month Price: $479.88
Inno Supps also offers a "Subscribe and Save" option where you can subscribe to a delivery every 30 days or 90 days, and save 20% on your purchase.
Female Shred Stack Wrap Up
Overall, shedding that unwanted body fat and bloat can be extremely difficult for some. Despite vigorous training, cardio regimens and strict diets, it can still be hard! Supplementation is something that can aid in really putting the icing on the cake. With so many bogus supplements on the market, Inno Supps stands out. 
Inno Supps has a variety of great products to assist in losing weight. Things like Inno Shred, Inno Glow, Volcarn 2000, Night Shred,Inno Cleanse, and Complete PMS Support can be extremely beneficial to ladies looking to lose weight. Choosing which ones to use can be pricey and difficult. Lucky for you, they sell them all as a Female Shred Stack so you get them all in one shot.
Will you be trying the Female Shred Stack?