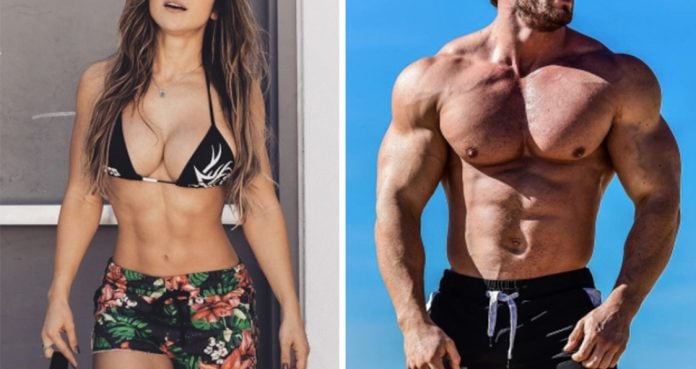 Disclaimer: The opinions in this article do not represent the opinions of Generation Iron.
Best Physiques In The World
A well-crafted physique can be aesthetically appealing and a symbol of godly strength. This is one the reasons people don't mind sweating in the gym. Building a shredded physique takes a lot of hard work, patience, and persistence, and only a few people have what it takes.
Following athletes living the fit life can push you to take your first step towards working out. If you've already been working out, these athletes can help you in staying on track and motivating you so you never give up. These are the 10 best physiques in the world –
1. Steve Cook
You just can't hate this guy. Steve is one of the most humble people in the fitness industry. He treats his fans as family and shares everything with them. Follow him on his social handles to stay motivated.
2. Flex Lewis
Flex Lewis is a former 7x 212 Mr. Olympia and has undoubtedly one of the best physiques in the world. Only a few other people can beat Flex when it comes to muscle symmetry. He's now taking his physique to the Men's Open division (though unfortunately no longer competing in 2020). We can't wait to see this fantastic physique maxed out without a weight limit.
3. Michelle Lewin
Michelle is one of the most famous fitness celebrity. She has graced numerous magazine covers and shows no signs of stopping. Her persistence and hard work in the gym can push you to work on crafting your physique.
4. Phil Heath
Phil Heath is a 7x Mr. Olympia for a reason. He is considered to be one of the best bodybuilders in the world. For years, when he stepped on stage it is was an instant game over for his competition. After being dethroned in 2018, he is making a comeback at this year's Mr. Olympia to reclaim his thrown and join Ronnie Coleman and Lee Haney as a world record Sandow trophy holder.
5. Courtney King
Courtney is the reigning Ms. Bikini Olympia. She is also one of the bubbliest characters you can follow on social media. Don't fall prey to her pretty face, her workouts are some of the most grueling ones. No wonder she has such a shredded physique.
6. Rob Riches
Rob Riches might arguably be the most shredded guy on this list. He maintains his peeled look throughout the year. If you're looking for training tips and hacks, Rob is your guy. He also has some of the best collab videos with other fitness athletes.
7. Calum Von Moger
Calum is the modern-age Arnold. We won't blame you if you confuse him with the Governator. His monstrous muscle mass and vascularity will leave you in awe. If you're a fan of the classic physiques, Calum Von Moger won't disappoint you.
8. Paige Hathaway
Paige is challenging the idea that women should not have big muscles. Not only is she ripped, but can take your breath away in any outfit. Follow her on Instagram and she will keep you hooked and wanting for more.
9. Ulisses Jr.
Ulisses Jr. is a muscle monstrous. His Cobra back and shredded abs will give you some serious goals. While he is shredded to the bone, Ulisses is one strong individual. Try out some of his exercises the next time you're in the gym and you'll be sore for weeks.
10. Alice Matos
Alice Matos is a fitness athlete and an entrepreneur. This Brazilian beauty has her own line of apparel called Labellamafia. Alice is a must follow if you dig girls who speak a foreign language.
Who else do you think should be on the list? Let us know in the comments below. Also, be sure to follow Generation Iron on Facebook and Twitter.
---
*Header image courtesy of Instagram