GSP does pushups on his fingertips with a slow eccentric to challenge his strength and stability. 
Your core is more than just where your six-pack abs and obliques reside. It stabilizes your pelvis and spine and enhances your athletic performance. MMA fighter Georges St-Pierre recently uploaded a video of him training – with movements that heavily focused on his core – for explosive power and stability, which we'll break down below. 
GSP is a Canadian mixed martial fighter, widely considered one of the greatest in history. Although he retired in 2019, the two-division (welterweight, middleweight) UFC champion is famous for staying in shape and recently discussed how boosting his testosterone naturally in his 40s helps with that. Fans anticipate the return of "Rush," although an upcoming fight with Nick Diaz had to be canceled due to both athletes' injuries.
Full Name: Georges St-Pierre (GSP)
Weight 
Height
Date of Birth

170lbs

5'10"

05/19/1981

Division
Era
Nationality

Welterweight, Middleweight 

2000s- 2010s

Canadian
In this video uploaded to X, formerly Twitter, the athlete shows excellent stability and power-increasing moves. Georges St-Pierre looks shredded in his forties, as we saw when he unveiled his physique recently. So, we'll look at his power and stability-increasing exercises and the best way to use them to maximize gains. We also share tips on increasing your power and stability while examining Georges St-Pierre's training. 
Georges St-Pierre's Training Routine 
View this post on Instagram
In the video above, Georges St-Pierre did four exercises during training that improved his stability and power. However, the MMA champion featured in The Hurt Business points out that time is no longer on his side as he ages. Let's dive into the exercises he uploaded on social media. 
Exercises
Seated Box Jump
Swiss Ball Kettlebell Reverse Fly on GHD Machine
Swiss Ball Prone Horizontal Adduction on GHD Machine
Fingertip Pushup
Seated Box Jump
The seated box jump is a plyometric exercise for your lower body. Research shows that when combined with resistance exercises, plyometric exercises can increase muscle strength and power (1). 
Seated box jumps work on your posterior chain muscles, targeting your glutes, hamstrings, quads, calves, and hip flexors. Seated box jumps force you to channel your explosive power by exploding through your legs to jump. You can also turn this into an endurance-based exercise with a low enough box. Then, you can focus on doing many jumps with limited rest. But the higher the box height (like GSP's box in the video), the more force is required, focusing more on power output. 
When doing seated box jumps, your nervous system is ignited to give you strength gains. This exercise uses a push-type force and is a great way to maintain elasticity in your tendons as you age. Georges St-Pierre showed his insane lower body power with this exercise, jumping to a great height from a short distance.
Swiss Ball Kettlebell Reverse Fly on GHD Machine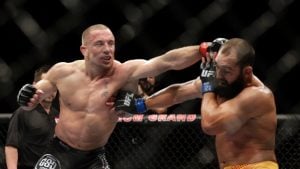 Georges St-Pierre did the reverse fly, holding kettlebells in both hands and balancing on a Swiss ball set up on a GHD machine. St-Pierre did each rep at a fast tempo and went through a great range of motion. 
The Swiss ball kettlebell reverse fly is a free weight and fitness ball routine. This exercise primarily targets your core and middle back but recruits your shoulders, specifically your posterior delts. When done on a GHD machine, the stability needed for this exercise goes through the roof. As a result, it builds the core muscles, including your abs and obliques. Moreover, the concentration required to stay stable can help you focus better and improve your mind-muscle connection, leading to more muscle activation (2). 
Swiss Ball Prone Horizontal Adduction on GHD Machine
Right after, St-Pierre stays in the same position, utilizing the Swiss ball and GHD machine to perform prone horizontal adductions. The Swiss ball prone horizontal adduction works on your posterior muscles — rhomboids, trapezius, and posterior delts. These are the muscles that move your shoulders during adduction. Doing this routine on a Swiss ball also challenges your stability and strength, increasing them gradually.
Swiss ball prone horizontal adductions help to improve your posture by strengthening your shoulder and back muscles. This exercise, however, also recruits your arms and works on your core. Research shows that prone exercises on a Swiss ball are great for your back and core muscles (3). GSP did horizontal adductions after doing a reverse fly with kettlebells using the same setup.
Fingertip Pushups
View this post on Instagram
GSP rounded up his exercising in this video with fingertip pushups. Fingertip pushups are an advanced variation of the conventional pushup. As the name suggests, it requires pressing your entire body up using your fingertips as the base. This exercise isn't beginner-level and requires great strength and stability. 
The main muscles targeted with this exercise are the chest, shoulders, and triceps. They're also great for building your forearms and improving your grip strength. GSP did each rep with a slow eccentric to put his pectoralis muscle under more time under tension. 
Mixed martial artists often do this exercise to improve their muscular functioning and the conditioning of their hands. The reason why it's effective is because it builds the connective tissues of the hands, which, of course, play an important role in combat sports. This will make your hands denser and better at handling stress over time, which can help with throwing punches and grappling. 
Follow us on Instagram, Facebook, and Twitter for more athlete workouts!
References
McKinlay, B. J., Wallace, P., Dotan, R., Long, D., Tokuno, C., Gabriel, D. A., & Falk, B. (2018). Effects of Plyometric and Resistance Training on Muscle Strength, Explosiveness, and Neuromuscular Function in Young Adolescent Soccer Players. Journal of strength and conditioning research, 32(11), 3039–3050.

https://doi.org/10.1519/JSC.0000000000002428

 

Calatayud, J., Vinstrup, J., Jakobsen, M. D., Sundstrup, E., Brandt, M., Jay, K., Colado, J. C., & Andersen, L. L. (2016). Importance of mind-muscle connection during progressive resistance training. European journal of applied physiology, 116(3), 527–533.

https://doi.org/10.1007/s00421-015-3305-7

 

Escamilla, R. F., Lewis, C., Pecson, A., Imamura, R., & Andrews, J. R. (2016). Muscle Activation Among Supine, Prone, and Side Position Exercises With and Without a Swiss Ball. Sports health, 8(4), 372–379.

https://doi.org/10.1177/1941738116653931