The biography, life, and accomplishments of Derek Lunsford
Derek Lunsford is a former 212 Mr. Olympia that transitioned to the Men's Open class and won the 2023 Mr. Olympia title there as well, making him the first ever Olympian to hold the title in two different divisions. He offers coaching advice on top of his insane work ethic to get the massive and shredded physique that he has.
Below is a complete breakdown of Derek Lunsford's profile, stats, biography, training and diet regimens.
Full Name: Derek Lunsford

Weight
Height
Date Of Birth
205-215 lbs.
5'6''
1993
Profession
Era
Nationality
Bodybuilder, Fitness Coach
2010
American
---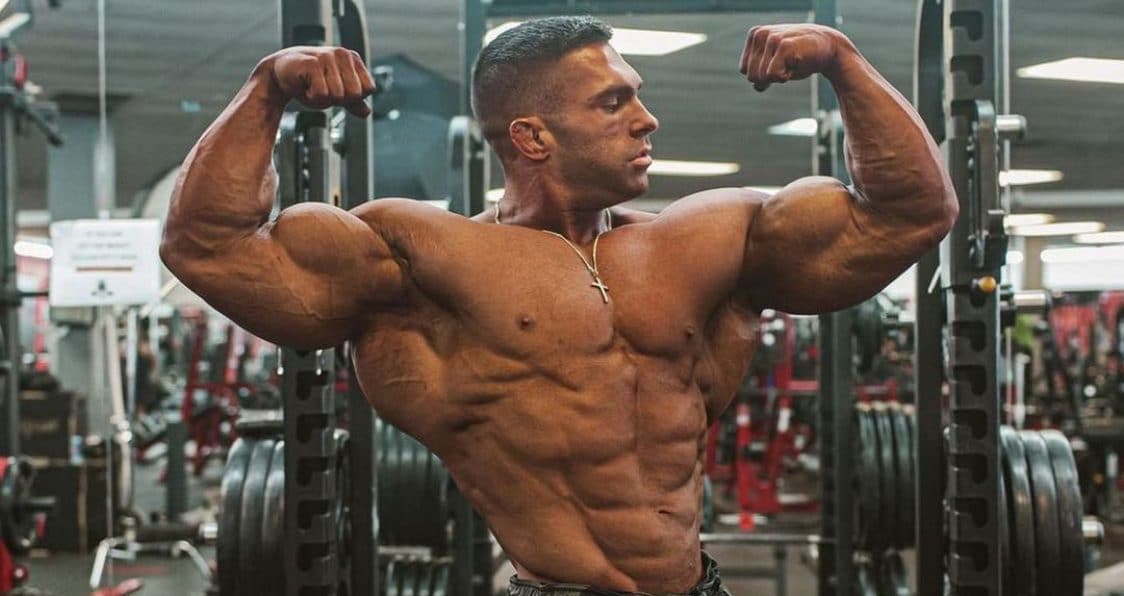 Derek Lunsford Biography
Derek Lunsford was born in Indiana and was always very active throughout his life. A competitive athlete throughout his time in school, it's no wonder where he gets his competitive edge from in his professional career. Once he hit college, it was all about the weights and he took to the weight room as often as possible. However, all of that was forced to change when Lunsford went to college. Unfortunately, the school that he attended did not have a wrestling program. Nonetheless, he did not want to stop athletic endeavors, so he was forced to look into other sports. Instead, he began to take an interest in lifting weights, opening the door to a career in bodybuilding.
As time went on, he continued to make more and more progress and that shredded aesthetic began to take shape. He started admiring some of those giants we all know and love and his bodybuilding dreams began.
He first stepped on the bodybuilding stage way back in 2015, but it wasn't until 2017 that he earned his pro card. And right out of the gate he got a big win at the Tampa Pro which allowed him the opportunity to compete at Mr. Olympia in the Men's 212 division. Fast forward to now, and he has a 212 Mr. Olympia title, as well as the second place title at the 2022 Olympia in the open division, and a 2023 Mr. Olympia title. That's right, in 2023, Lunsford took home the Sandow trophy, dethroning Hadi Choopan. He also offers coaching advice for those seeking to make those changes that may seem out of reach. But with Derek in charge, this bodybuilding force shows no signs of slowing down.
Derek Lunsford Height 
One thing about Derek Lunsford tat many are fascinated by, is his height and weight. Derek stands 5'6″, which is perfect for the 212 division. However, many doubted that he would be able to compete with the larger competitors at the 2022 Olympia because of the height disadvantage, yet he still came in a close second place. After proving that he can hold his own in the Open division, he took home the crown, defeating massive bodybuilders like Samson Dauda and Andrew Jacked.
How Much Does Derek Lunsford Weigh?
Though he may not be the tallest competitor on the stage, Lunsford still manages to pack on an impressive amount of weight, sitting around 240 lbs in the offseason and around 215 lbs on stage, not to mention his conditioning and muscle maturity blow away many of the competitors on that stage. Though he is now competing in the men's open division, rather than 212, so there is room for growth.
Lunsford received a "special invitation" to the 2022 competition as he could no longer safely make weight for the 212 division. And after his impressive runners-up performance, he took to social media to congratulate the new champ. Lunsford wrote: "I'm happy with and enjoying the moment, but not content."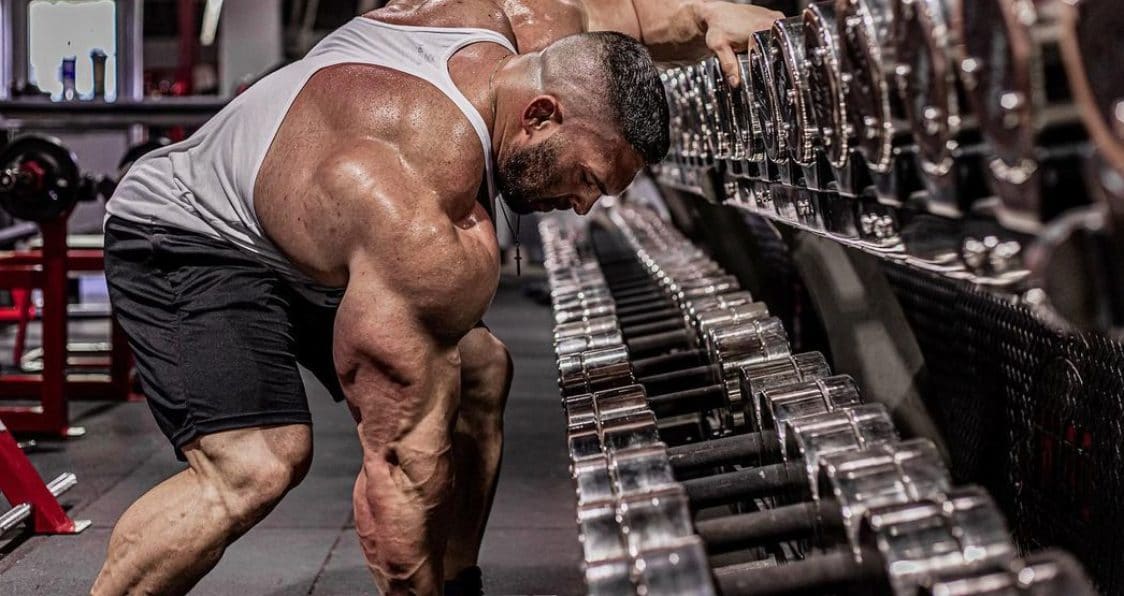 Training
To get to the level that Derek is at, training is key. Derek's training is obviously very strict and intense, and he works with both cable machines and free weights (barbells and dumbbells) while also incorporating plenty of compound and isolation movements. He also uses drop sets and supersets as much as possible which allow him the opportunity to really work those muscles once they are fatigued.
Here is a great arm workout that Derek uses to enhance his biceps, triceps, forearms, and all other muscles that work to build that impressive physique.
Derek's Arm Workout
Triceps Pulldowns
Close-Grip Bench Press
Lateral Cable Pulls
Triceps Pushdown Machine
Machine Cable Curls
EZ Bar Curls
Alternating Dumbbell Curls
Cable Preacher Curls
Reverse EZ Bar Raises
Diet and Nutrition
When it comes to sculpting that massive physique that Derek has, training is only part of it. Another huge part is the diet, what goes in to refuel and rebuild his muscles. The proper foods help the muscles grow back bigger and stronger, after being broken down during training sessions.
Like many bodybuilders, Derek aims to eat a meal every 2-3 hours and looks to hit all of those macronutrients spot on. This not only allows for proper rest, but also helps him recover fully. Foods that Derek includes in his diet plan are chicken, fish, eggs, and other lean meats, mixed vegetables, rice, and assorted nuts and avocados as sources of healthy fats.
Supplementation
While Derek uses his own supplements of choice, there are some staple products in a bodybuilder's routine that can greatly help you see results. A protein powder is great for making sure you get in the correct amount of protein each day, which helps in seeing effective gains and working to pump you with protein to aid in muscle growth, recovery, and weight loss or healthy bulking.
For those pre-workout needs, looking to pre-workout supplements will provide you with energy and muscle pumps so you can take full advantage of every workout. A shredded aesthetic is the end goal and looking to fat burners can kickstart your metabolism, suppress your appetite, and allow for more calorie burn to give you the best benefits possible and really help to get you to where you want to be.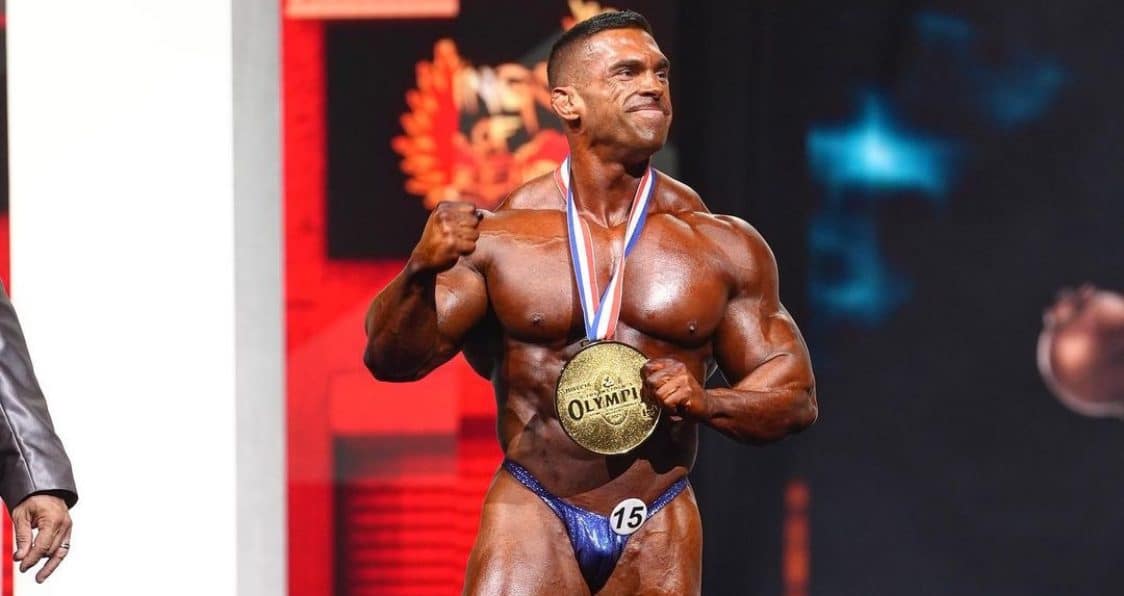 Derek Lunsford Competition History
Derek Lunsford is a very well decorated bodybuilder, in both his amateur and professional career. Being on the bodybuilding scene since 2015, he has an impressive collection of shows that he has competed in. However, he does not go over the top, as you see some bodybuilders competing several times per year, which inhibits progression. Derek instead competes 1-2 times per year, which allows him to pack on some serious muscle mass in the extended offseason.
Here is a look at some of Derek's competitions:
2021 Mr. Olympia Men's 212: 1st place
2020 Mr. Olympia Men's 212: 4th
2019 Mr. Olympia Men's 212: 2nd
2018 Mr. Olympia Men's 212: 2nd
2017 Mr. Olympia Men's 212: 5th
2017 Tampa Pro Men's 212: 1st
2017 NPC USA Championships- Men's Light Heavyweight- 1st
2016 NPC USA Championships- Men's Middleweight- 2nd
2016 NPC Junior Nationals- Men's Middleweight- 1st
2015 NPC Junior Nationals- Men's Welterweight: 1st
2015 NPC Indianapolis Championship- Men's Open Welterweight: 1st
Derek Lunsford Exclusive Video Interview on Olympia Win
The team at Generation Iron even got the chance to sit down and talk to Derek regarding his Olympia win back in 2021. He took us through a play-by-play of how it went down. Check it out:
Derek Lunsford Olympia 2023
Derek Lunsford was crowned the new 2023 Mr. Olympia and is the first-ever professional bodybuilder to win two Olympia divisions. Lunsford is now the 18th Mr. Olympia title holder  and winner of the 2021 Olympia in the 212 division. In 2022, he was offered a special invitation to compete at the 2022 Olympia in the men's open class rather than the 212, where he placed second, right on the heels of Hadi Choopan. However, Lunsford has now dethroned Hadi Choopan.
Derek Lunsford Wrap Up
Overall, Derek Lunsford is someone who really has a future in the industry. As a regular athlete back in the day, Derek has certainly come a long way, considering now he is one of the top bodybuilders around right now. Many think that he has a shot at winning the Mr. Olympia, Ronnie Coleman being one of the people that believe in Derek.
Do you think that Derek Lunsford can win the Mr. Olympia again?
Let us know what you think in the comments below. Also, be sure to follow Generation Iron on Facebook, Twitter, and Instagram.