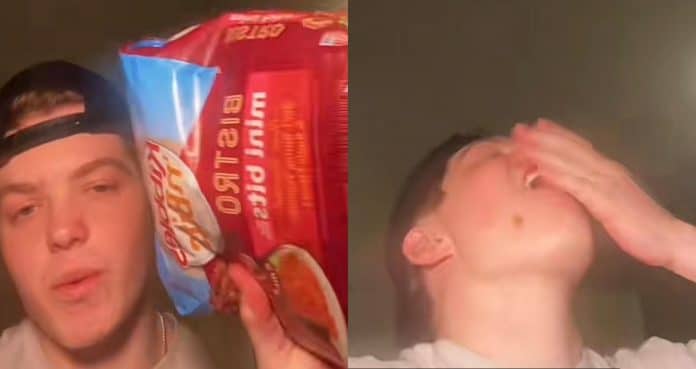 A recent TikTok video went viral using a very unorthodox choice of food.
A diet plan is an extremely important part of building an impressive physique. We have seen some pretty extreme measures to get the proper nutrients and proteins needed. Recently, a TikTok video went viral where a gym goer was trying dog and cat food to gain that extra protein.
On Feb. 20, Henry Clarisey, who's TikTok account is Henry.fit, shared a video showing the nutrition facts of Pedigree dog food. There was a total of 666 grams of protein in 200 grams of food. The video quickly went viral, totaling 21.3 million views and 2.5 million likes. That same day, Clarisey bought a bag of dog food and decided to give it a try.
The next day, Clarisey found that cat food was even higher in protein. So of course, he continued the trend and attempted to eat cat food. This takes crazy trends to the next level. TikTok has become a big part of fitness in many ways. Joey Swoll has become a voice on the platform speaking against toxic gym culture. His videos have gained plenty of attention as he attempts to defend those who are being wrongly accused of different behaviors in the gym.
Liver King became a social media sensation quickly by showing off a diet of raws meats and organs. He built his reputation using the nine ancestral traits and showing off his massive physique. It came out that Liver King was indeed on steroids but has since weened off and continues to live his unique lifestyle.
READ MORE: Woman Makes Over $13,000 Selling Breast Milk To Bodybuilders
Henry Clarisey Discusses Crazy TikTok Attention
After gaining plenty of attention because of his dog and cat food videos, many news outlets began reaching out.
"This is getting a little out of hand. So, Buzz Feed made a full-on article about me eating dog food for protein. It didn't stop there, Daily Mail also came out with a full article about me eating dog food."
View this post on Instagram
Clarisey explains that Pedigree was contacted and they claimed that "foods are not intended for humans, only for dogs and cats." Despite this already being common knowledge, Clarisey doubled down and asked viewers to not attempt this trend.
"If there's actually people out there like tracking and eating real dog food, don't do that. Like please don't actually do it. It was kind of just for fun as a joke and now people are actually eating dog food. Don't do that. I'm telling you now as the person that ate it, don't do it."
Over the years, bodybuilders have shared massive diet plans to gain extra protein. This includes Jay Cutler and his huge portion of egg whites daily. Since TikTok has come into play, there have been some insane trends both in the gym and in the kitchen. So far, this one takes the cake but Henry Clarisey made sure to retract and explain that it was meant to be a joke.
For more news and updates, follow Generation Iron on Facebook, Twitter, and Instagram.