Rich Piana isn't your average bodybuilding personality.
There are many different figures in bodybuilding that illicit a specific reaction from fans. Whether that reaction is positive or negative, it's born of a truth that is at times irrational and unexplained. Arnold Schwarzenegger is one such man that has the ability to evoke a number of emotional reactions from people all across the globe. Some may find him inspirational, the greatest professional bodybuilder to ever compete, a man who was able to explore many different arenas from sports to film to a government position. Much in that same vain, current bodybuilding personalities evoke a very overwhelming reaction from fans. One of those individuals no doubt is Rich Piana.
While Rich Piana may not be an Arnold Schwarzenegger, he's more than likely the first man to admit that. He'd also admit that he's not looking to be anything like Governor Schwarzenegger. Rich Piana is a man who has played by his own rules throughout his entire life and has never tried to do otherwise. It's perhaps what makes the man one of the more recognizable figures in the bodybuilding and fitness community today. Fans across the interwebs may not cosign with everything he may say or promote, but Rich Piana is a man who is fine with having those who are against his opinions as much as he embraces those who except him for who he is. But who exactly is Rich Piana?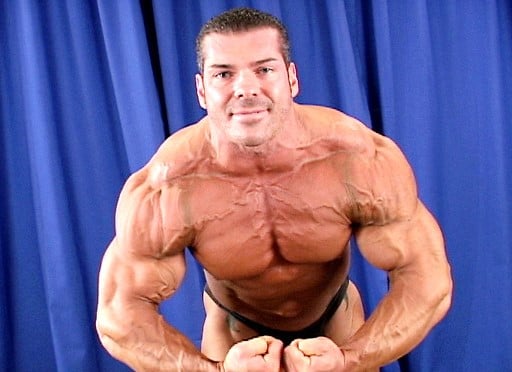 To know someone you have to first explore their past to bring about the truth of who they are today. If nothing else, Rich Piana is a man committed to muscle. Ever since the age of 11, Rich Piana has been bodybuilding. He first got into the endeavor through going to Gold's Gym at the tender age of 6 with his mother and watching her and the other athletically inclined individuals inhabiting the gym space. The monsters that trained at Gold's Gym filled the young Piana with awe and admiration, which would one day be translated into his life's passion. You can say that the lifting culture has been ingrained within him in his more informative years and has held on ever since. Much in the same way a young person watching basketball could venture to become a professional NBA player, Piana would eventually establish a mission for himself: to become a professional bodybuilder like no other. But like many other individuals who have chased their dreams, things don't always turn out just as planned.
Lifting consistently since the age of 11 saw Rich Piana competing in amateur bodybuilding competitions as early as 15 years old. While he may not have crushed his competition in his early competitive years, Piana would continue to pursue his dreams. He yearned to see more growth and development and as such, took to utilizing steroids and has done so ever since the age of 18. The bodybuilding personality has admitted to his use of anabolic steroids many times and goes in depth about his cycles. In fact, this outspoken nature is one of the biggest reasons people both respect and criticize Rich Piana. Nevertheless, he tells it like it is and prefers having no filter in regards to his anabolic substance use.
With years of bodybuilding under his belt, Rich Piana would go on to compete in a great deal of amateur bodybuilding shows. 2009 was his best year as a competitive bodybuilder as he picked up two big wins at NPC shows. But when he realized that his opportunity to compete as a pro bodybuilding was waining, Rich Piana decided to go another route. Not only was he able to become an actor and stunt person, Piana would go on to develop his own supplement and clothing brand 5% Nutrition.
This is where Rich Piana has been able to separate himself from the average internet bodybuilding personality.
Rather than hide the truth about his anabolic steroid use, Piana has preferred to embrace the truth and share his experiences with the world, up front and unfiltered. As Piana puts it, there weren't many resources for him to to use when he was growing up. He believes his forthcoming attitude and willingness to expose the deep, dark secrets of steroid use can in fact become a helpful resource for other young bodybuilders. Piana is looking to change the fitness and bodybuilding industry just a little bit at a time. Rather than adopting the usual reclusive personality of a bodybuilder, Rich Piana has instead decided to shine a spotlight on himself as a means of reaching the masses in a way that even professional bodybuilders have been unable to do.
With an industry like bodybuilding, a world shrouded in mystery to many of the fans, Rich Piana is a breath of fresh air. Some may love him, some may hate him, but either way he's always looking to find and share the truth how he views it.
What are your thoughts on Rich Piana?
Let us know in the comments below. Also, be sure to follow Generation Iron on Facebook and Twitter.