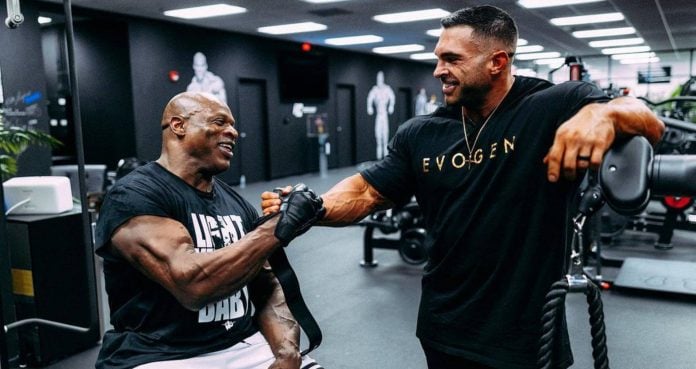 The only thing Derek Lunsford had on his mind after winning Mr. Olympia was training with Ronnie Coleman. 
The moment when two Olympia legends come together, we pay attention. We're thrilled to share the exciting details of Derek Lunsford and Ronnie Coleman's epic shoulder workout. The reigning Mr. Olympia humbly paid homage to the veteran who inspired his victorious journey in this year's Olympia run. 
"What was really making me push harder, a big aspect of it was I was like, 'I just want to go hang out with Ronnie Coleman as the Mr. Olympia.' So I've literally been thinking about coming and training and hanging out with Ronnie Coleman. It's all I've wanted to do post-show."
Ronnie Coleman is an Olympia legend and an inspiration to many worldwide. He won the title consecutively from 1998 to 2005, tying with Lee Haney for the most Mr. Olympia wins in history (eight). Coleman was one of the experts who picked Lunsford to win this year.
Full Name: Ronnie Coleman
Weight
Height
Date of Birth

297 lbs

5'11"

05/13/1964

Division
Era
Nationality

Men's Open

1990s-2000s

American
View this post on Instagram
More than just winning the Mr. Olympia title, Derek Lunsford has cemented his name in history. He's the first athlete to win the Olympia title in two weight classes. After winning the Men's 212 titles in 2021, Lunsford switched divisions, defeating many favorites to come runner-up last year before finally winning the coveted Mr. Olympia crown this year.
Full Name: Derek Lunsford
Weight
Height
Date of Birth

205-215 lbs

5'6"

05/14/1993

Division
Era
Nationality

212 and Men's Open

2010s – Till Date

American
View this post on Instagram
In this video uploaded on Ronnie Coleman's YouTube channel, the duo hung out and did some light shoulder work. They also got personal, discussing the Olympia win and Lunsford's emotions after winning. In this post, we ride with both champions on this journey and analyze their shoulder exercises.
Derek Lunsford & Ronnie Coleman Reunite After Mr. Olympia Win
For Derek Lunsford, hanging out with Ronnie Coleman after his Mr. Olympia win was a personal milestone. He had to include this amongst the many new conferences, interviews, and other press obligations with his win. During the meet, Lunsford, who had in prior meetings refused to touch Coleman's Olympia trophies until he had one himself, finally asked to see them. Lunsford also says that the significance of his win was so overwhelming that he forgot about his huge cash prize. 
"You know what's crazy? The $400,000 check didn't even set in until, like, 24 hours later. Like, 'oh, yeah man! It's the nice check I am getting'."
Ronnie Coleman, whose birthday is just a day before the younger athlete, also gifted Lunsford baby clothes as he will soon be a father, which was heartwarming for the champ. 
Derek Lunsford & Ronnie Coleman's Shoulder Workout
As part of their hangout, the champions did some light shoulder training. It consisted of just four exercises, with two as a superset. Although short, the exercises they chose are powerful ones that can help you strengthen and induce hypertrophy in your shoulders. Here they are below.
| | | |
| --- | --- | --- |
| Exercises | Sets | Reps |
| Dumbbell Lateral Raise | 2 | 15-20 |
| Superset — Machine Lateral Raise & Seated Machine Shoulder Press | 4 | 12-15 |
| Dumbbell Front Raise | 2 | 15-18 |
Dumbbell Lateral Raise
The dumbbell lateral raise is an isolation exercise that targets the lateral delts – the part of your shoulders responsible for that boulder-shoulder look. However, the exercise also recruits and works on your anterior delts and posterior delts (1).
Derek Lunsford used five different angles for the fifteen reps in his first set for this exercise. He did 20 reps in the second set, hitting his delts from three other angles. Ronnie Coleman then did the seated variation of the exercise, which is great for concentrating the focus on your shoulders by taking out the need to stabilize yourself while standing. 
Superset — Machine Lateral Raise & Seated Machine Shoulder Press
Machine lateral raises are the machine variation of the dumbbell lateral raise. They also focus on your lateral and anterior delts. Doing this exercise on a machine helps to eliminate momentum since it happens in the seated position and on a machine for stabilization, leading to more focus on your shoulders.
The seated machine shoulder press is a routine that primarily focuses on your front delts but ultimately hits all three deltoid heads and your arms and core, recruiting your triceps, abs, and obliques. Using a machine for this exercise offers more stability, as you'll be seated, removing the need for extra coordination. This allows you to zero in on and work your shoulders but could lead to less core activation (2). 
Derek Lunsford and Ronnie Coleman hit a superset of machine lateral raises and seated machine shoulder presses next. Supersets are a great way to save time while also building muscle in training by increasing the intensity of the workout. 
Dumbbell Front Raise
The dumbbell front raise is another effective isolation routine for your anterior delts. However, this exercise also engages the upper chest, lateral delts, posterior delts, rotator cuff, and traps. And your wrist flexors, abs, and obliques help to stabilize your body. 
To round up their short shoulder training session, Derek Lunsford and Ronnie Coleman did two sets of the dumbbell front raise. This movement, excellent for strengthening the front delts, can also help with neck pain (3). The Olympia champions lifted heavy for this session before finishing their shoulder workout for this video.
You can watch Derek Lunsford's and Ronnie Coleman's full shoulder workout in the video below:
Follow us on Instagram, Facebook, and Twitter for more Mr. Olympia workouts! 
References
Campos, Y. A. C., Vianna, J. M., Guimarães, M. P., Oliveira, J. L. D., Hernández-Mosqueira, C., da Silva, S. F., & Marchetti, P. H. (2020). Different Shoulder Exercises Affect the Activation of Deltoid Portions in Resistance-Trained Individuals. Journal of human kinetics, 75, 5–14.

https://doi.org/10.2478/hukin-2020-0033

 

Saeterbakken, A. H., & Fimland, M. S. (2012). Muscle activity of the core during bilateral, unilateral, seated and standing resistance exercise. European journal of applied physiology, 112(5), 1671–1678.

https://doi.org/10.1007/s00421-011-2141-7

 

Andersen, L. L., Saervoll, C. A., Mortensen, O. S., Poulsen, O. M., Hannerz, H., & Zebis, M. K. (2011). Effectiveness of small daily amounts of progressive resistance training for frequent neck/shoulder pain: randomised controlled trial. Pain, 152(2), 440–446.

https://doi.org/10.1016/j.pain.2010.11.016