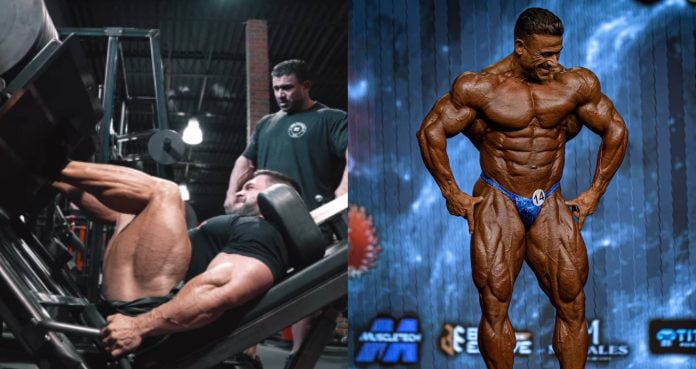 IFBB Pro bodybuilders Derek Lunsford and Kamal Elgargni join forces to attack an epic leg day. 
Two Olympia champions, Derek Lunsford and Kamal Elgargni, meet to conquer an isolation-focused leg workout. These International Federation of BodyBuilding and Fitness (IFBB) Pro bodybuilders are 212 Olympia champions. Kamal Elgargni won the division in 2019, and Derek Lunsford overtook Shaun Clarida for the title in 2021. 
Lunsford moved up to the Men's Open division in 2022 after receiving a special invitation. He took hold of this opportunity and received runner-up behind the 2022 Mr. Olympia, Hadi Choopan. 
Full Name: Derek Lunsford
Weight
Height
Date Of Birth

205-215 lbs.

5'6''

1993

Division
Era
Nationality

212, Men's Open

2010

American
The Libyan IFBB Pro Elgargni finished second at the 2022 Tampa Pro and placed fourth at the Texas Pro—pretty good for a 51-year-old. 
Full Name: Kamal Elgargni
Weight
Height
Date Of Birth

212 lbs.

5'6''

1971

Division
Era
Nationality

212

2010

Libyan 
Together, these elite contenders recently joined hands and went through a full leg workout with MI40 gym head coach Adam Brammer. 
Derek Lunsford and Kamal Elgargni's Leg Workout 
View this post on Instagram
Below we'll break down all the leg movements these IFBB Pros performed.
Seated Leg Curls 
Derek Lunsford and Kamal Elgargni started the leg workout by warming up their hamstrings. The first movement in their regimen was the seated leg curls. Lunsford prefers to start all his leg workouts with leg curls and says the seated variation feels the best. 
The seated leg curls isolate the posterior thigh muscles (hamstrings) and are also great for warming up your knees. 
Lying Leg Curls 
The 212 Olympia champs duo continued with targeting their hamstrings and moved to the lying leg curls. They performed this exercise for a few sets unilaterally (one leg at a time), followed with a couple of bilateral (both legs) sets.
Performing exercises unilaterally on machines improve your mind-muscle connection to help strengthen any lagging muscle group. 
The seated leg curls give your hamstrings more range of motion. But the lying leg curls give your hamstring muscles a different look since it's performed from a different angle hence the name, you're lying. 
Stiff Leg Deadlifts 
Moving on, the IFBB Pro bodybuilders added a compound movement (working multiple leg muscles) to the mix, stiff leg deadlifts. The stiff leg deadlift engages your posterior chain (back, hamstrings, glutes). And as the name suggests, your legs are straighter than a conventional deadlift. This will take some pressure off your lower back while simultaneously increasing the workload for your hamstrings. Lunsford stated:
"You don't need to go that heavy on this exercise. I've done five plates of stiff leg deadlifts for like 12 reps. Is it effective? Of course. That weight counts for something but I'm just more focused on… This exercise for me is more for opening up the muscle fibres meaning the stretch is more important. It's not so much about weight and the hard contraction on the way up. It's more about slowing the movement down and stretching and creating more distance at the bottom and opening up more muscle fibers so that more blood can get pushed in, making it grow even more…"
Next, Lunsford and the Libyan Olympia champ went to another compound movement that engaged more of their anterior chain (quads).
Leg Press 
The compound movement they attacked was the leg press. The leg press engages all the major muscles in your lower body—glutes, hamstrings, and quads. It's a safer alternative than its free weight cousin squats since it's a machine and causes less spinal compression. 
Leg Extensions 
After warming up their hamstrings and performing a couple of compound movements, Lunsford and Elgargni shifted their attention to their quads. The first quad exercise they did was the leg extension. 
Besides the isolation of your quads, the leg extension greatly involves your knees. It's beneficial to do hamstring exercises before quad movements since they are generally easier on your knee joints (warming them up). 
The bodybuilding champs only did one isolation movement for their quads before shifting to the machine hip thrusts to isolate their glutes. 
Machine Hip Thrusts 
The machine hip thrusts are an excellent way to target your glutes specifically. It allows you to load up the largest muscle (buttocks) in your body with much weight. Moreover, it doesn't place much stress on your knees and lower back and stabilizes your pelvis. In addition, it improves hip extension, which increases your overall explosive power and is critical for big compound movement deadlifts and Olympic lifts such as power cleans. 
Hip Adduction Machine
After the glute-focused exercise, Derek Lunsford and Kamal Elgargni targeted their abductor and adductor muscles to finish their workout. They started with the hip adduction machine, which engages your glutes and the inner thigh muscles. Moreover, it reduces knee valgus (knees caving inward). 
Hip Abduction Machine 
Like the hip adduction machine, this movement also engages your glute muscles but focuses on the muscles in your outer thighs. This exercise will improve your hip stability and lower body flexibility, which will help you out on other significant lower body compound exercises like the squat. 
Leg Workout 
View this post on Instagram
 These are the leg exercises Derek Lunsford, and Kamal Elgargni performed:
Exercises 
Seated Leg Curls
Lying Leg Curls 
Stiff Leg Deadlifts 
Leg Press 
Leg Extensions
Machine Hip Thrusts 
Hip Adduction Machine 
Hip Abduction Machine 
The 212 Olympia champs performed a total of 8 different leg exercises together. They did a couple of movements for their hamstrings, then two compound movements, one quad-focused movement, and lastly, they finished their workout targeting their adductor and abductor muscles. 
With the 2022 Olympia being pushed back compared to previous years and so close to winning the 2022 Mr. Olympia title, Derek Lunsford plans to sit out for the 2023 Arnold Classic to focus on preparing for the 2023 Olympia. 
You can watch Derek Lunsford and Kamal Elgargni's complete leg workout on Lundsford's YouTube channel below:
More IFBB Pro Workouts
If you enjoyed Derek Lunsford and Kamal Elgargni's leg workout, check out some other IFBB Pro workout collabs below:
For the latest bodybuilding and fitness news, follow us on Instagram, Facebook, and Twitter.