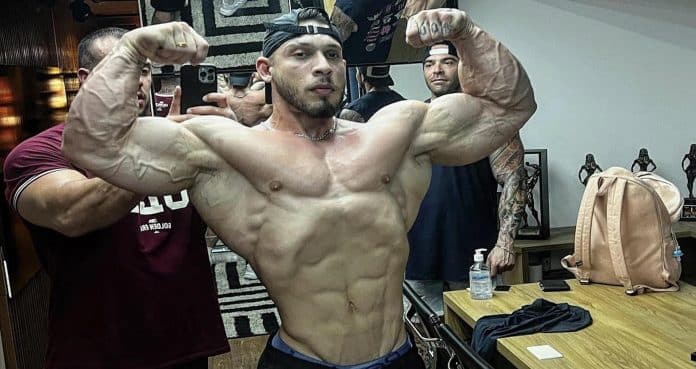 Ramon Rocha sets his eyes on CBum to overtake the Classic Physique title. 
Leg training is about much more than just avoiding the "Johnny Bravo" look. When you work out your legs, your body releases hormones like testosterone and human growth hormone (HGH). Studies have shown that these hormones are crucial in muscle growth and hypertrophy (1). So, if you've been contemplating skipping leg day, let this be your reason to banish that thought. This post will examine Ramon Rocha Queiroz's (Ramon Dino) leg workout.
Ramon Rocha is a Brazilian bodybuilder in the Classic Physique category with a huge following on social media. This leg workout is part of his preparation for the 2023 Mr. Olympia in November.
Full Name: Ramon Rocha Queiroz
Weight
Height
Date of Birth

222 – 250 lbs

5'11"

02/09/1995

Division
Era
Nationality

Classic Physique

2010s – Till Date

Brazillian
Ramon Dino earned his pro card by winning the Amateur Olympia Brazil 2018. He then stunned everyone by not competing for two years before returning to a runner-up finish at the Europa Pro. Since then, he's had top-five and runner-up finishes in Mr. Olympia and the Arnold Classic before netting the top prize in the Classic Physique division at the 2023 Arnold Classic.
Ramon Dino hopes to dethrone four-time winner Chris Bumstead this year, and this leg workout is part of his prep. IFBB Men's Open Pro Rafael Brandao joined him, and Fabricio Pacholok coached both of them. Here are their leg exercises and how to use them to build your leg muscles.
Ramon Rocha & Rafael Brandao Leg Workout
View this post on Instagram
Before the intense leg-finishing workout, Ramon Rocha did some stretches. Research shows stretching before your routines could help muscle soreness (2). However, it's best to save stretching for after your workouts unless it's dynamic stretching, which can be done before. 
Ramon Dino also took a pre-workout supplement before starting his training. Pre-workout supplements also help you reduce exercise fatigue and recover faster after training. The Brazilian bodybuilding pros used machines for all their exercises and rounded up by saying, "We're going to bring the top 1 for Brazil, so let's go get it." Watch out, Chris Bumstead!
Exercises
Leg Extensions
Hack Squats
Seated Leg Curls
Hip Abductions
Leg Extensions
The leg extension is an isolation exercise that targets your quads. It uses the extension of your knee that contracts your thigh to build the quad muscles on a leg extension machine. With most exercises that target quads, your legs could get tired easily because multiple other muscle groups are involved. Leg extensions bypass this problem as they recruit only the quads. This lets you build that muscle to the max without secondary muscle stress.
Ramon Rocha and Rafael Brandao hopped on the leg extension machine for multiple heavy sets. Fabricio Pacholok coached both through using a full range of motion for their sets and then doing some sets with a partial range. They both took turns before heading to the first compound exercise in the leg day training.
Hack Squats
The hack squat is a compound lower body routine that targets the quads, hamstrings, glutes, and calves to build strength in your legs. To perform hack squats, you get on an angled machine that offers support and use your legs to move the weight up and down.
Hack squats are an alternative to the barbell squat, allowing you to lift more. This is because you get support from the machine, which reduces your need for core strength and stabilization. Athletes also use this exercise to improve their strength before doing the barbell squat. 
Ramon Dino and Rafael Brandao took turns with the hack squat machine while being coached by Pacholok. Queiroz also put on a knee sleeve before lifting heavy with this exercise to protect his knees. Then, they both headed to the next routine for the day.
Seated Leg Curls
The seated leg curl is an effective way to build muscle in your legs and improve balance. This exercise targets your glutes, hamstrings, and adductor muscles. Research shows that the seated leg curl is slightly better at building your hamstrings than the lying leg curl (3).
In most athletes, the hamstring is usually weaker than the quads. This could lead to injuries like ACL ruptures. Using the seated leg curl to build your hamstring strengthens it so you can avoid these injuries. 
Ramon Rocha and Rafael Brandao did seated leg curls as the second to the last routine for this leg day workout. They both pushed through heavy sets with advice from Fabricio Pacholok. Then, they headed to the hip abduction machine for the last exercise of the day.
Hip Abductions
Hip abductions are a great way to tone your backside and also help to reduce hip and knee pain. As a result, physical therapists often use this exercise in therapy. Bodybuilders use it to strengthen the muscles that help with stabilization, too. 
When you use a hip abduction machine, it primarily targets your abductors but also recruits your glutes. This machine helps you to build all three glute muscles. To do this exercise, you sit in the machine with your knees against the machine pads and push your legs away from your body. 
Ramon Rocha used the hip abduction machine for the last exercise of this leg workout. He did some solid leg-tasking sets under the coaching of Pacholok before ending the video, which was uploaded on his YouTube channel. You can watch Ramon Dino's full leg workout below:
Follow us on Instagram, Facebook, and Twitter for more exercise guides! 
References
Fink, J., Schoenfeld, B. J., & Nakazato, K. (2018). The role of hormones in muscle hypertrophy. The Physician and sportsmedicine, 46(1), 129–134.

https://doi.org/10.1080/00913847.2018.1406778

 

Andersen J. C. (2005). Stretching before and after exercise: effect on muscle soreness and injury risk. Journal of athletic training, 40(3), 218–220. 

Maeo, S., Huang, M., Wu, Y., Sakurai, H., Kusagawa, Y., Sugiyama, T., Kanehisa, H., & Isaka, T. (2021). Greater Hamstrings Muscle Hypertrophy but Similar Damage Protection after Training at Long versus Short Muscle Lengths. Medicine and science in sports and exercise, 53(4), 825–837.

https://doi.org/10.1249/MSS.0000000000002523