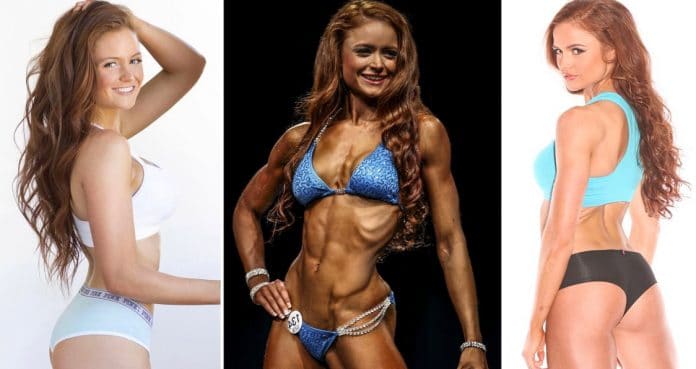 The biography, life, and accomplishments of Abby Pollock
Abby Pollock is a social media fitness celebrity born on 15 October 1994 in Toronto, Canada. Her not-so-humble fan following (710K followers on Instagram and 898K subscribers on YouTube) is a result of her motivational and instructional posts, humility, and total transparency with her followers. 
Below is a complete breakdown of Abby Pollock's profile, stats, biography, training, and diet regimens.
Full Name: Abby Pollock

Weight
Height
Date Of Birth

150-160 lbs

5'7″

15/10/1994

Division
Era
Nationality

Physique Competitor

2010

Canadian
---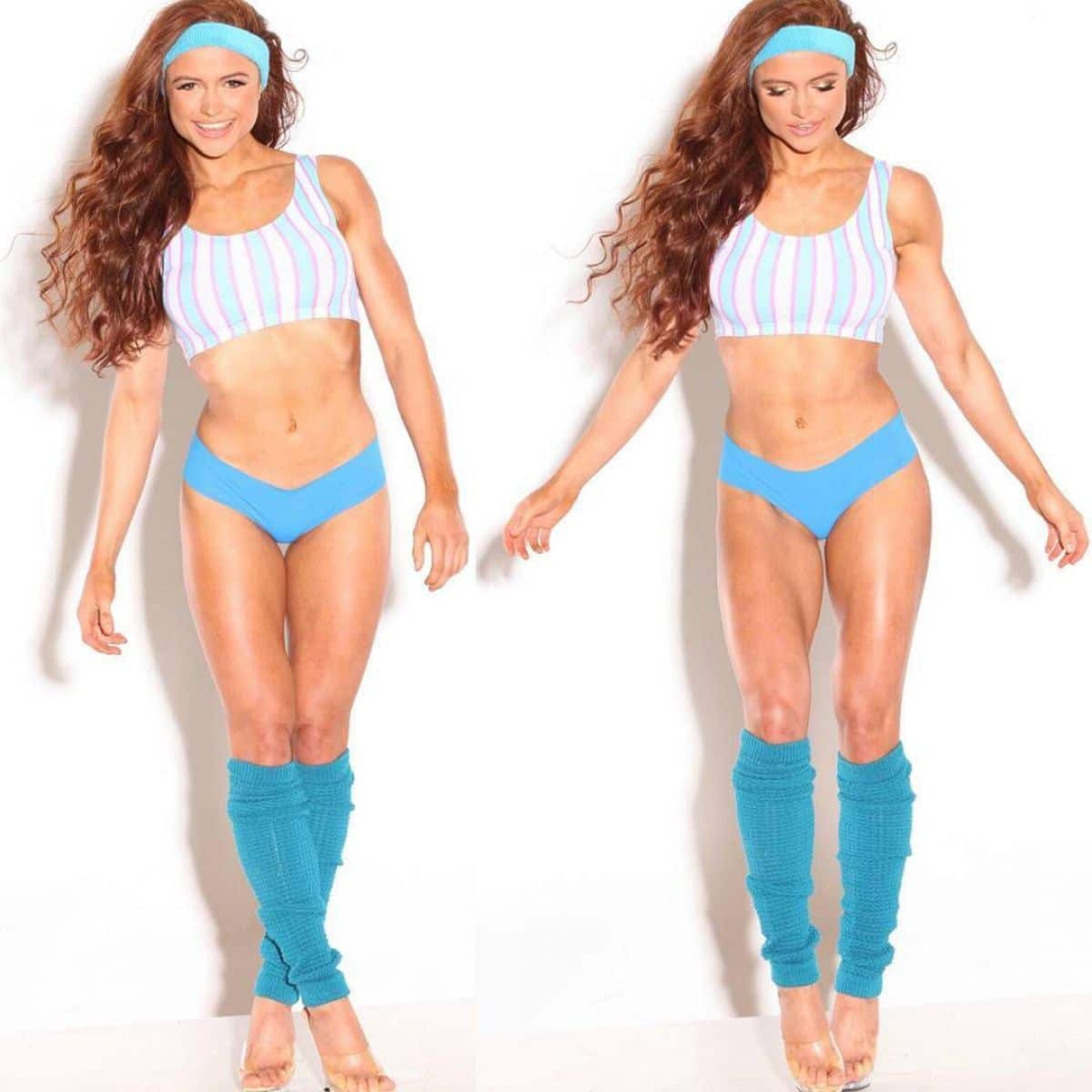 Biography
Abby Pollock was not always the fitspo people know her as today. She suffered severely from under-eating while growing up. Although Pollock was always active and involved in sports, she wanted to be skinny. 
By the time Abby Pollock entered grad school, she was 20 lbs underweight and was struggling with symptoms of anorexia (lack of appetite) and bulimia (binge eating followed by purging; and excessive concern with body shape and weight).
Abby was struggling in school at the time and was in a bad relationship. As a result, she used food as a "safe space." Without any prior dieting knowledge, Abby decided to limit her daily calorie consumption to 1,000 kcal with the goal of remaining skinny. 
Abby Pollock used MyFitnessPal to track her diet and calorie intake and ensured she did not eat more than the bare minimum required to function throughout the day. Meaning – despite her hectic study schedule and regular cardio training, Abby restricted her diet to 900-1000 calories per day.
As Pollock lost weight through her restrictive diet program, she became obsessed with losing more. In the process of losing more weight, she progressed from simply eating "clean," to eating a paleo diet of raw foods.
Entering The Fitness Lifestyle
Her typical diet routine included having a vegetable smoothie for breakfast and then eating a small salad for lunch and dinner. After following the calorie-restrictive diet plan for a while, Abby Pollock realized she was always tired and running low on energy. It was then she realized she needed a lifestyle change. 
The final nail in her old diet plan's coffin came when, in 2013, she found out that her father had terminal cancer. This terrible news, combined with issues in her love life caused Abby to look for a way out of her suffering (both emotional and physical).
On being asked about this period, Abby says, "I was done playing the victim." She decided to turn her life around and planned to make big modifications to her diet and training routine.
Being a fitness noob herself, Abby Pollock hired a personal trainer and nutritionist to create a workout routine and high protein diet to help her physique transformation. 
To kickstart her transformation journey, Abby increased her calorie intake to 2,000 kcal per day. Her workout program was focused on adding muscle mass to her thin frame.
Lifting weights and eating right helped her carve the physique of her dreams.
Becoming a Social Media Sensation
While undergoing her transformation, Abby Pollock started posting about her journey and experiences on her social media channels. Unexpectedly, her story resonated with a lot of people, and she started attracting attention. 
Abby also landed interviews with some big women's lifestyle magazines – talking about her story and explaining how she changed her life around. This took her fan following to the next level.
Once she built a decent following on Instagram, she began posting motivational videos and photos. Abby wanted to use her platform to help other women struggling with their weight.
Her soaring popularity led her to start a YouTube channel. Abby Pollock started making training, nutrition, and lifestyle videos to reach out to a larger audience. Abby's videos were warmly received, and she turned into a fitness sensation. 
Training
Before Abby Pollock started following a personalized training program, she was doing two hours of cardio a day. The high cardio activity combined with her low-caloric intake put her in a calorie deficit. Abby was burning more calories in a day than she was consuming, meaning – she could not build the body she wanted.
After discussing her goals with her trainer, Abby switched to doing two shorter cardio sessions per week instead of the two long hours of cardio every day. 
Pollock also added resistance training to her workout regimen to help her build muscle mass. Abby performs four weightlifting workouts per week. Her training philosophy includes lifting as heavy as possible without compromising her form.
Once she put her new training program and approach into motion, she noticed impressive gains in her glutes and quads. According to her, she was building the body that she had always dreamed of, with the weighted exercises she had always feared.
Training Routine
Abby Pollock hits the gym four times a week and her workouts last anywhere between 45-60 minutes. Her four-day training routine includes:
1. Lower Body
Squat

:

 3 sets of 12-15 reps

Step-up

:

 3 sets of 12-15 reps

Hip Thrust:

 3 sets of 12-15 reps

Dumbbell Stiff-Legged Deadlift:

 3 sets of 12-15 reps

Reverse Lunge:

 3 sets of 12-15 reps

Standing Smith Machine Calf Raise

:

 3 sets of 15-20 reps
2. Back and Biceps
3. Shoulders and Triceps
Seated Dumbbell Press

: 

3 sets of 12-15 reps

Lateral to Front Raise:

 3 sets of 12-15 reps

EZ Bar Upright Row

:

 3 sets of 12-15 reps

Dumbbell Shrugs

:

 3 sets of 12-15 reps

Cable Press-down:

 3 sets of 12-15 reps

Diamond Push-up:

 3 sets of 12-15 reps

Dumbbell Kickback:

 3 sets of 12-15 reps

EZ Bar Skullcrusher:

 3 sets of 12-15 reps
4. Lower Body
Barbell Squat

:

 3 sets of 12-15 reps

Lunge

:

 3 sets of 12-15 reps

Cable Pull-through:

 3 sets of 12-15 reps

GHD Extension:

 3 sets of 12-15 reps

Hip Thrust:

 3 sets of 12-15 reps

Seated Calf Raise

:

 3 sets of 12-15 reps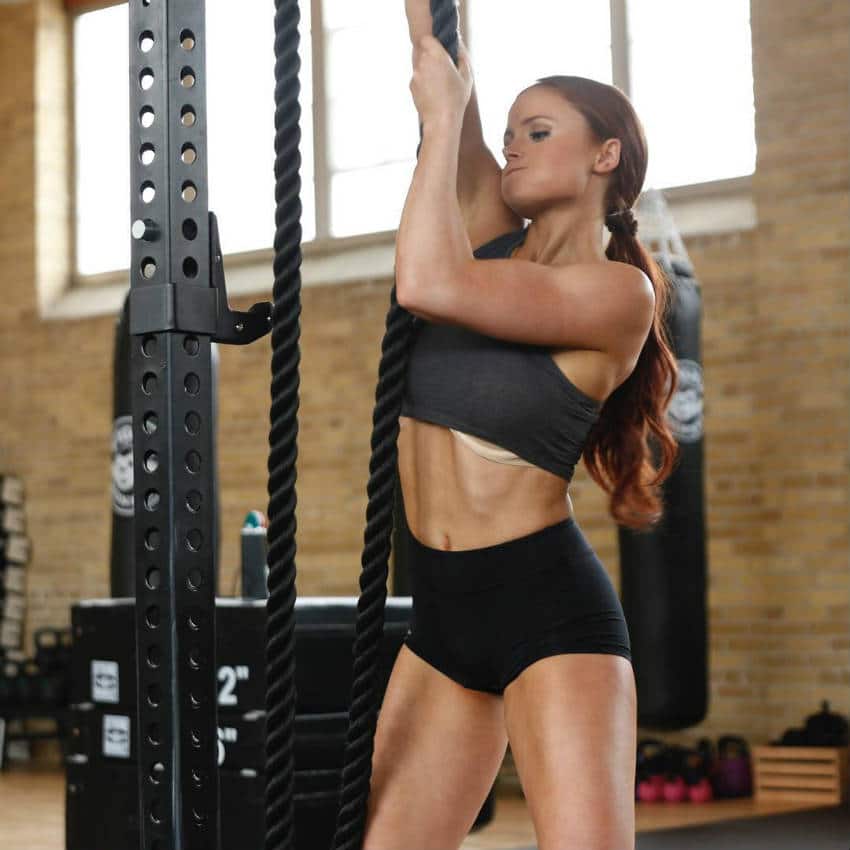 Nutrition
After following a balanced diet for years, Abby Pollock has arrived at the ideal calorie value she needs to consume every day to keep her physique in shape.
Abby follows a flexible diet that allows her to eat whatever she wants as long as it fits her daily calorie needs. She also focuses on her daily macronutrient needs and consumes a healthy dose of carbs, fat, and protein in each meal.
Apart from flexible dieting, Abby also incorporates intermittent fasting into her regimen. She fasts for 16 hours a day which is said to increase the body's capabilities of using stored energy.
Abby Pollock's four meal diet program includes:
Meal One
Scrambled eggs with ground turkey and vegetables

Snack: An apple with baby carrots
Meal Two
('Chocolate oats') Oatmeal, egg whites, almond milk, cocoa, and stevia mixture
Meal Three
Spaghetti squash with ground turkey, vegetables, and cheese sauce made from almond milk and cheddar
Meal Four
Protein ice cream made with protein powder, a banana, almond milk, and ice.
Abby Pollock Wrap Up
Overall, Abby Pollock is someone to really take a look at. She has overcome an eating disorder and truly built a phenomenal physique.
What do you think of Abby Pollock?
You can get the info first by following us on Facebook and Twitter.