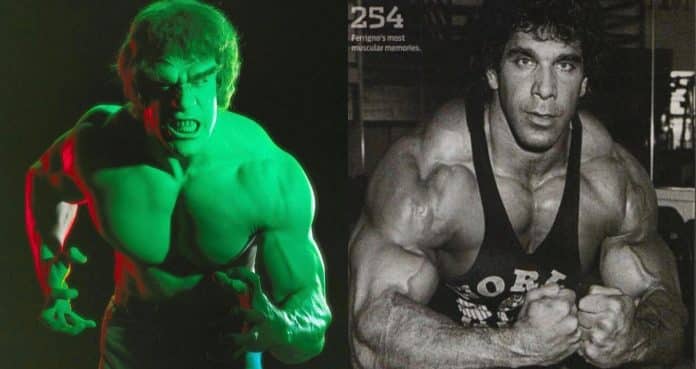 This is how the Hulk works out before turning into a green raging machine. 
Bodybuilding legend Lou Ferrigno became worldwide famous after playing a challenger to Arnold Schwarzenegger in the documentary Pumping Iron. He also won two Mr. Universe titles and the IFBB Mr. America at age 22. Lou Ferrigno is considered the most successful bodybuilder to get an acting career after the "Austrian Oak." This article will look at Lou Ferrigno, aka the "Incredible Hulk's", full workout routine. 
Ferrigno's story begins when he builds his body at age 13 to resemble his comic book hero, the Hulk. Before this, he excelled in sports despite losing 80% of his hearing to an ear infection as a child and getting bullied. He's an inspiration because seven years after training, he entered and won his first competition, going home with gold from the 1971 WBBG Pro Mr. America.
Things came full circle for Ferrigno at the 1975 Mr. Olympia competition. Even though he came third in his category, the producers of The Incredible Hulk noticed and cast him in the series, the show became a hit, and Lou Ferrigno received the moniker "Incredible Hulk." Ferrigno says:
"I had to work damn hard on my diet and exercise for the Hulk. I wasn't going to let anyone down, especially myself. The Hulk was my hero as a kid as well."
Lou Ferrigno is a celebrity trainer who has worked with Michael Jackson and Chuck Norris. Standing a height of 6'5", he's one of the tallest successful bodybuilders and has always kept in shape. His fighting spirit and tenacity are what have helped him build this legacy. In this post, we'll look at the Lou Ferrigno workout routine and how he uses it to develop his incredible physique.
Full Name: Lou Ferrigno
Weight
Height
Date of Birth

285 -295 lbs

6'5"

11/9/1951

Profession
Era
Nationality

Bodybuilder, Actor, Celebrity Trainer

1970s – 1990s

American
View this post on Instagram
Lou Ferrigno Workout Regimen
Ferrigno believes in doing compound exercises that target multiple muscles at once. He follows a split training routine and hits each muscle group twice weekly. Some of the workouts he does include leg presses, rows, and squats.
Lou Ferrigno believes that when exercising, you should avoid going too heavy so you don't get injuries. He also believes in switching up your routines to prevent monotony and avoid a plateau. This study postulates that athletes should vary their techniques and exercises to break through plateaus (1).
Ferrigno doesn't think you should attend the gym without a plan. Before arriving at the gym, he recommends deciding what exercises you'll do, how many sets, the number of reps, and what kind of sets to do. 
Research shows that adopting super and drop sets is excellent for inducing muscle hypertrophy and increasing strength (2). Lou Ferrigno puts in constant work. 
"Whenever I don't feel like doing another workout or eating another chicken breast, I only have to remind myself of the benefits of this lifestyle. I owe everything to bodybuilding."
Lastly, he believes in taking adequate rest. Doing too many exercises too hard can be problematic and lead to exhaustion, affecting your recovery. Rest is vital to maximize hypertrophy and gain solid muscle mass (3). 
Below is a weekly summary of Lou Ferrigno's workout routine. It's essential to note that Lou Ferrigno is 70 plus now and may not follow this exact regimen. However, he also switches things occasionally, so this is a general guide. 
Monday: Chest and Back
Monday is chest day for the Incredible Hulk. The Hulk workout plans pair the chest with the back, including dips and pull-ups.
Tuesday: Shoulders and Arms
On Tuesday, Ferrigno targets his biceps, triceps, and shoulders with movements like the overhead press.
Wednesday: Legs
Lou Ferrigno doesn't believe in skipping leg days and pushes his leg muscles to the max with curls, extensions, and squats. 
Thursday: Chest and Back
On Thursday, it's back to the chest and the back for Ferrigno. 
Friday: Shoulder and Arms
View this post on Instagram
The shoulders, biceps, and triceps get attention from Ferrigno again on Friday. In addition, he uses presses, curls, and functional exercises like pulldowns and pushdowns. 
Saturday: Legs
Saturday is the last day of exercising for the week, and Lou Ferrigno works on his legs for the second time. 
Sunday: Rest
After a long week, the Incredible Hulk rests on Sunday to prepare his muscles for the brutal week ahead. 
Bodybuilding Champion vs Hulk Superstar
Generation Iron had the pleasure to interview Lou Ferrigno back in 2018, discussing a wide range of topics reflecting back on his entire career in bodybuilding, Hollywood, and beyond. One key question asked was whether or not Ferrigno regrets never earning a Mr. Olympia title.
Was becoming the Hulk and entering Hollywood a better trade-off than sticking through for the Sandow trophy? You can see his answer and our full interview below:
Follow us on Instagram, Facebook, and Twitter for more workouts from bodybuilding legends! 
References
Krzysztofik, M., Wilk, M., Wojdała, G., & Gołaś, A. (2019). Maximizing Muscle Hypertrophy: A Systematic Review of Advanced Resistance Training Techniques and Methods. International journal of environmental research and public health, 16(24), 4897.

https://doi.org/10.3390/ijerph16244897

 

Iversen, V. M., Norum, M., Schoenfeld, B. J., & Fimland, M. S. (2021). No Time to Lift? Designing Time-Efficient Training Programs for Strength and Hypertrophy: A Narrative Review. Sports medicine (Auckland, N.Z.), 51(10), 2079–2095.

https://doi.org/10.1007/s40279-021-01490-1

 

Schoenfeld, B. J., Pope, Z. K., Benik, F. M., Hester, G. M., Sellers, J., Nooner, J. L., Schnaiter, J. A., Bond-Williams, K. E., Carter, A. S., Ross, C. L., Just, B. L., Henselmans, M., & Krieger, J. W. (2016). Longer Interset Rest Periods Enhance Muscle Strength and Hypertrophy in Resistance-Trained Men. Journal of strength and conditioning research, 30(7), 1805–1812.

https://doi.org/10.1519/JSC.0000000000001272