The biography, life, and accomplishments of Alondra Chatman 
Alondra Chatman is an African American professional INBA PNBA Figure professional natural bodybuilder born on June 20, 1974. She's the reigning 2x Figure open Natural Olympia champ and an INBA PNBA Hall of Fame Inductee. Chatman was also nominated for the Award of Excellence to end 2021. 
Moreover, she was the first woman to sign a multi-media contract with Generation Iron, the INBA PNBA, and Iron Man Magazine. 
Below is a complete breakdown of Alondra Chatman's profile, stats, biography, training, and diet regimen.
Full Name: Alondra Chatman
Weight
Height
Date Of Birth
134-140 lbs
5'6″
6/20/1974
Division
Era
Nationality
Figure
2010
African American
Biography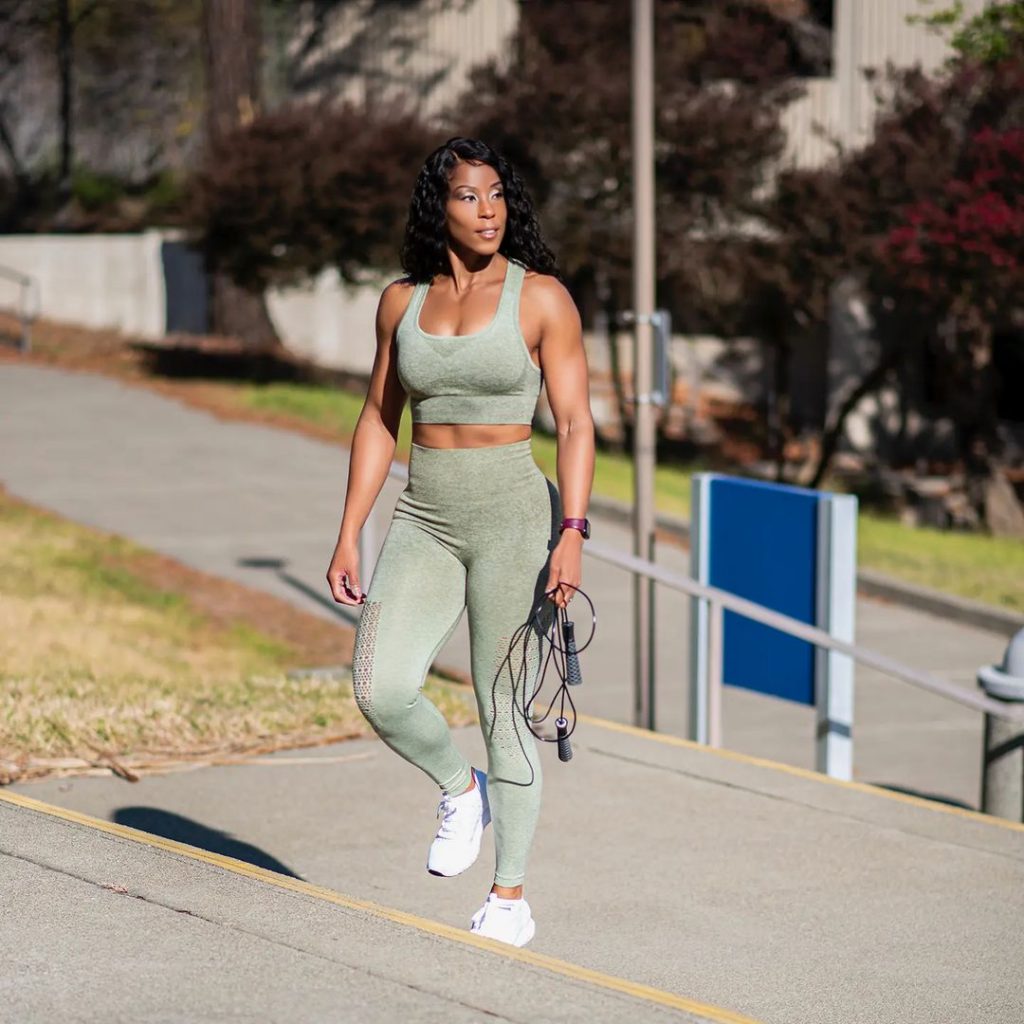 On June 20, 1974, Alondra Chatman was born in Palo Alto, CA. Chatman's transition to natural bodybuilding comes from an athletic background. She was quick to join sports growing up – from elementary school through college. Although, she didn't start lifting weights until her first year of college as a volleyball player. When training with her volleyball coach, she fell in love with weight training. 
Her experience lifting as a collegiate athlete led her down her career path. Alondra Chatman started personal training and eventually opened up her gym after graduating. As a former athlete, bodybuilding sparked her interest after seeing her friend compete in the Figure division. She was drawn to the idea of pushing your body to the next level. 
The first show Alondra Chatman competed in was with the International Natural Bodybuilding Association (INBA)/Professional Natural Bodybuilding Association (PNBA). As a competitor who didn't want to take PEDs, she appreciated that the INBA PNBA league drug tests their athletes who abide by the strictest drug testing standards for professional athletes – World Anti-Doping Agency (WADA). She liked how this leveled the playing field for natural athletes. 
Competition History
Below is an overview of Alondra Chatman's competition history. 
2021 Natural Olympia Pro Open Figure – 1st
2019 Natural Olympia Pro Open Figure – 1st
2019 PNBA Muscle Beach Pro Open Figure – 1st
2019 PNBA World Championship Pro Open Figure – 2nd
2018 Natural Olympia Pro Open Figure – 4th
2018 PNBA Zeus Classic Pro Open Figure – 1st
2013 PNBA Silver & Black Pro Open Bikini – 2nd
2012 NPC Emerald Cup Open Figure – 6th
2012 NPC Governor's Cup Open Figure – 6th
2010 NPC San Francisco Open Figure D & Overall Masters – 1st
2010 INBA Silver & Black Overall Open Figure – 1st
Alondra Chatman's Training
Alondra Chatman's training plan consists of the five-day split routine laid out below. 
Day 1 – Legs – Quad Focus
Day 2 – Chest, Back & Biceps
Day 3 – Shoulders & Triceps
Day 4 – Legs – Hamstring & Glute Focus
Day 5 – Upper Body Combo
Alondra Chatman's favorite workouts in a written statement:
Barbell Squat:

all the variations. I love pushing heavy weight and using differing foot positions to target the quads, glutes and hamstrings in different ways. 

RDL:

I like both dumbbell and barbell Romanian Deadlifts to target hamstrings which are essential for properly balanced leg development.  

Cable Shoulder Raise:

Lat Raise, Front Raise, Rear Delts, etc. i [sic] like to use the cables for a shoulder day finisher. The cables are great for isolating and fine tuning [sic].  
View this post on Instagram
Nutrition
According to Alondra Chatman, she keeps her nutrition the same during the prep for most of the season. But she'll make adjustments approximately four weeks out from the competition to ensure she's "lean and dry for the stage." Chatman stated, "I use Premier Research Labs for most of my supplements – Multivitamins, BCAAs, Digestive Enzymes and So Lean & So Clean Plant-Bases Protein."
In-Season Meals
Meal 1:

2/3 cup oatmeal, 2 oz. turkey 

Meal 2:

4 oz. turkey, 4 oz. rice 

Meal 3:

4 oz. turkey or white fish, 4 oz. potato or rice, 1 cup green veggies

Meal 4: 2 scoops

protein

in water, 1 whole fruit w/ 1 tbsp flax seed 
Meal 5:

4 oz. turkey or beef, 4 oz. potato or rice, 1 cup green veggies
*Note: She may snack on carrots and hummus or beef jerky. 
Alondra Chatman is more flexible with her diet during the off-season and consumes more fruit and treats. However, Chatman declared, "I don't drink alcohol at all."
Personal Life
When Alondra Chatman isn't prepping for being under the bright lights, she runs The Inner Athlete, where she says, "I train people for overall better health fitness as well as coach a team of bodybuilding athletes to the stage." She's been running this business for the past 16 years – located in San Leandro, CA. 
Outside of natural bodybuilding and fitness, Chatman is a woman of God, who enjoys spending time at church, traveling, and watching movies with her family – she's a wife and mother of two teenagers.